Personal Character Reference Letter
Character matters! Whether or not you have had a chance to actually understand through a practical example that the character of a person matters, it still does. In school, workplace, playground or anywhere where you have to interact with people your character speaks for you. Apart from this, when you become a part of an institute or organization, your character does not only speak for you but also for all those people and things that belong to you. A bad character will lay down impressions not only on you but also on all those people and things.
While hiring an employee or giving admissions to new student authorities request for a character reference letter from the applicant to make sure they are dealing with a good person. A character reference letter is written for an individual by the people who know him personally. The purpose of writing a character reference letter is to give your honest words regarding the person you are writing a letter for and assuring that he owns a good character. Writing fake character reference letters is an immoral act. Also, by writing for those who you don't know personally, you may put at risk the organization that would hire your referred person on the base of your letter. Be responsible!
Personal Character Reference Letter
[Your Name]
[Address]
[Letter Date]
[Recipients Name]-optional
[Address]-optional
To Whom It May Concern
Dear [Recipient's Name],
My name is [enter name] and I am working at [enter organization] as [enter title]. Mr. [enter name] has been my colleague at [enter organization] for [enter period]. He is a very nice man and even though he was a senior employee at our office, he used to be respectful to seniors and juniors all alike. Also, he is among those few employees who never gave a chance of complaint to anyone and always remained committed and hardworking. Because I have known him personally I hereby declare with full responsibility that he is a man of good character.
For any further details, you can contact me at [123-4567-8901]. Thank you!
Sincerely,
[Your Name]
[Senders Title] -Optional-
Download Details: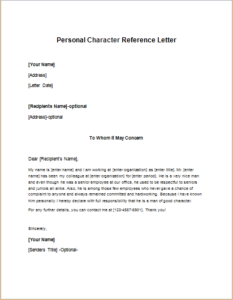 Personal Character Reference Letter
Size: 25 KB Word .doc File 2003 & later
Download
Size: 178 KB PDF File
Download
[personal use only: Not for Resale & Distribution]