Personal Character Reference Letter
Character matters! Whether or not you have had a chance to actually understand through a practical example that the character of a person matters, it still does. In school, workplace, playground, or anywhere where you have to interact with people your character speaks for you.
Apart from this, when you become a part of an institute or organization, your character does not only speak for you but also for all those people and things that belong to you. A bad character will lay down impressions not only on you but also on all those people and things.
While hiring an employee or giving admissions to new student authorities request for a character reference letter from the applicant to make sure they are dealing with a good person.
A character reference letter is written for an individual by the people who know him personally. The purpose of writing a character reference letter is to give your honest words regarding the person you are writing a letter for and assure that he owns a good character.
Writing fake character reference letters is an immoral act. Also, by writing for those who you don't know personally, you may put at risk the organization that would hire your referred person on the base of your letter. Be responsible!
1-
I received your letter inquiring about Mr [name] as I have taught him for three years when he was doing his BE [name of degree]. You were wondering if he would prove to be a good research assistant in your ongoing work on [name of research work]. I would like to reassure you that he is one of the most hardworking students I have come across in my career. He is bright and intelligent but his untiring and continuous hard work are his best attributes.
He does not give up when he faces a hurdle and keeps working on his weaknesses until he improves. His understanding of [field] is excellent and I feel that he is one of the most appropriate people to assist you. I would highly recommend him for this post. For any further queries, feel free to get in touch with me.
2-
To whom it may concern
Ms. [name] has served as a nanny in our house for the last [number] years that we have spent in [country name]. As a working woman, I needed help in taking care of my young children when I was posted as [designation] in the [country] Embassy.
I feel that I was very lucky to have found her so soon after arriving here and in her time with us, her duties included taking care of our children, picking them up and dropping them at the school with the driver, making their food, keeping their wardrobes tidy and supervising them in the park. In all this time she has proved to be a very responsible and trustworthy person.
Her personal hygiene is impeccable and she has encouraged the kids to keep themselves and their surroundings clean and tidy at all times. She has instilled discipline in the children and made them used to a proper timetable.
We especially admire the way she has instilled the habit of reading before bedtime, in our kids. Earlier they were hooked to their gadgets and it was really difficult to put them to sleep as the electronics interfered with their sleep. But the excellent bedtime routine she introduced, worked wonders for the kid's sleep. She has also worked very hard on ensuring that the kids eat healthily.
We are grateful for her services and really appreciate all that she has done for our children, who have come to adore her. She is more like a family member and we would miss her when we move back to our country shortly. In case of any further queries, I can be contacted at [email address].
In the end, we would like to wish her all the best for her future endeavors and would restate our belief that she is the best person to trust your kids with.
Name
3-
To Whom It May Concern
Dear [Recipient's Name],
My name is [enter name] and I am working at [enter organization] as [enter title]. Mr. [enter name] has been my colleague at [enter organization] for [enter period]. He is a very nice man and even though he was a senior employee at our office, he used to be respectful to seniors and juniors all alike.
Also, he is among those few employees who never gave a chance of complaint to anyone and always remained committed and hardworking. Because I have known him personally I hereby declare with full responsibility that he is a man of good character.
For any further details, you can contact me at [123-4567-8901]. Thank you!
Sincerely,
Download Details: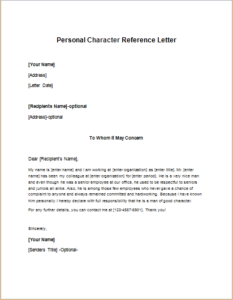 Size: 25 KB