Demotion Letter due to Performance
What is demotion?
Demotion means moving the designation of an employee to a lower rank from what he was working at previously. A subsequent decrease in the salary also follows demotion. The reasons for demotion can be underperformance of the employee, misconduct at work or unannounced leaves, etc.
How to inform the employee about a demotion?
Breaking the news of demotion to an employee can be a stressful and awkward situation therefore this must only be done after the employee has failed to make his performance better after several warnings. Always try to take the mild approach first if an employee is creating problems.
If the employee has been absent from work without informing, then call him to the HR office and discuss the situation with him. Maybe he has been facing some personal issues which he felt embarrassed to discuss earlier. If he has been involved in matters of misconduct has been creating problems for other employees, this can be discussed in a meeting and given him a chance to improve himself.
An employer should always keep in mind that the demotion should be done in a professional and polite way as the demoted employee can potentially create problems for the company.
He may talk bad about the company to other employees and lower their morale, he may quit soon after or he may also have an attitude of resentment and disrespect towards the authorities after his demotion. The employee should try to avoid these problems by handling this situation tactfully.
Here are some points to consider when writing a letter to inform an employee of his demotion
Carefully word the letter. Do not take a threatening or aggressive approach. Do not use harsh words and call him names, instead inform him politely that he has been violating company policies which led to this demotion. You can attach a document of company policies with this letter too if need be.
You can have a conversation with the employee in person before you send them the demotion letter. This will have them prepared to receive this news.
Offer a solution. You can let them know that the demotion can be reversed if they make their performance at work better and stick to the company rules. This will up their morale and will make them want to work harder instead of being frustrated with the demotion.
Always follow up with the demoted employee. Keep an eye on their work performance afterwards. If they are making amends in their work then that's great, otherwise they can be informed about their imminent cut from the office team.
Sample Letter
To
Mr. Henrick Jade
Manager sales
Tesla Motors
Dated 19th September 20XX
From
Mr. Hepburn Jules
Manager HR
Tesla Motors
Subject: Demotion letter due to performance.
Dear Mr. Jade,
We regret to inform you that you have been demoted from the position of Manager sales to Assistant manager sales with effect from 22nd September 20XX. This will also result in a 10 percent decrease in your salary which will now amount to $2500 per month as discussed previously in our meeting.
This was a difficult decision for us as you have been an exceptional worker previously. Your work record has been commendable in the months near when you joined us. However recently your performance has consistently been not up to the mark, and you have been delaying report submission for projects you were assigned. Despite multiple reminders, you were unable to keep with the deadlines and have been taking unannounced leaves from work. This has resulted in a delay in several of our project's submissions which have affected the company's reputation. Our clients have been dissatisfied with our company's service and have made complaints about the late work.
We hope that this will prove to be an opportunity for you to work harder and to maintain the standard of work you once had. We are hoping to see a positive change in your attitude and performance in the coming days and we can assure you that we will offer you your position back if you make amends.
Thank you and good luck!
Regards
Hepburn Jules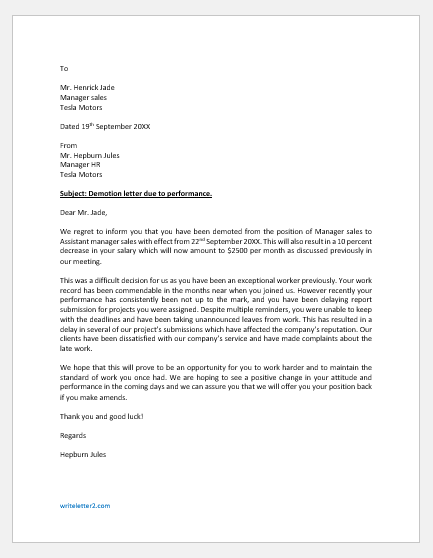 Size: 21 KB Word .doc File 2003 & later
Download
---