Apology Letter for Breaking Precious Item
People have a different kind of hobbies. One of them is to collect antiques such as vases. We also own some items which have a lot of emotional value for us. Gifts from our loved ones mean a lot to us even if they do not have a significant monetary value.
If we break any precious item belonging to someone, we owe them an apology. The best thing is to apologize as soon as possible to make the other person feel that you realize their loss. Briefly, explain what happened and accept your mistake. State any reasons for your actions. Politely apologize and inquire the concerns and sorrows of the other person. Make them feel better by proposing a way to make up for the loss.
Apology Letter for Breaking Precious Item
Dear [Recipient Name],
I really enjoyed the dinner last night at your home. It was really kind of you to invite me and my family. The food was amazing and the kids had a good time connecting with your kids. My kids are very calm and organized. But you know that children are unpredictable. You can never tell how they would react in different situations.
My younger one is very energetic and he loves running around especially when he is with his friends. He was really happy to visit you as he is very close friends with your younger son. The kids were playing when unconsciously my son ran past your vase and broke it. It was very unintentional but even then I accept the fact that he should have been more careful. Running inside the home is not something I would encourage him to do.
I feel very sorry for the loss. I know you have a hobby of collecting antiques and it was one of your favorite pieces. I also know that you have been traveling to different countries and collecting these rare pieces. I can understand your feelings as I know how bad it feels when we lose something we really like. My son was very embarrassed and would like to apologize to you in person.
We have been going around and looking for something to make up for the loss. Please accept our sincere apologies and forgive the kids as even we would break things as kids.
Sincerely
[Senders Name]
Download Details: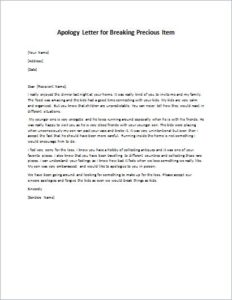 Apology Letter for Breaking Precious Item
Size: 27 KB Word .doc File 2003 & later
Download
Size: 123 KB PDF File
Download
[personal use only: Not for Resale & Distribution]