Referral Letter for a Friend Applying for a Training Program
It is important to know why and when referral letters are written. A referral letter is basically a confirmation or reliability letter that you write for someone. Its purpose is to confirm that you know the person and assure that you consider him a potential person to be referred.
Referral letters can be written by ex-employers for their employees, teachers for their students to get admission to good institutes or friends and colleagues for their friends, etc. It should be noted that a referral letter is a letter of response. Referral letters should not be written if you do not consider the relevant person capable. It will be an undue favor in this case and will snatch the right of a deserving person.
This sample letter given below can be used to write a referral letter for a friend applying for a training program.
1-
I [title] [name] am working in [department name] of this company since [number of years]. I learned about the [name] training program and I want to recommend Mr. [name] working in my department for this program. Mr. [name] has been a part of this company since [year]. He has extensive experience in programming in MATLAB and Java. He has proved himself to be invaluable in the coding for the projects [name of project].
As you know that [name] is a very challenging programming language and it requires a background of having worked in [name] and [name]. Mr. [name] fulfills this condition perfectly as he has been working on these platforms for the past couple of years and is an expert in programming and editing in these.
I am not only recommending him due to personal affiliation but because he is a very hard-working and capable person. He is a good team worker and a very loyal employee and the company would greatly benefit by investing in his professional growth.
Looking forward to your kind consideration.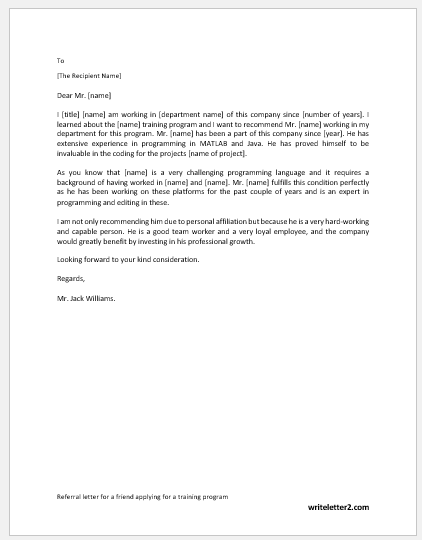 2-
Dear Mr. [name]
This is a recommendation letter for Ms. [name] who is applying for a British Council teacher education course aimed at developing Middle school teachers. I [name] am the vice principal of [name] School. Ms. [name] has been working as the English teacher for our middle school since [year].
She has proven herself to be a very hard-working and dedicated teacher. The student's affiliation with her and their excellent results are proof of her hard work.
I would like to recommend her for the training program being conducted by your prestigious organization. I am sure that she will learn a lot from this program and our students will benefit from her knowledge. The teaching strategies she will learn would impact her performance in the classroom.
She wants to apply for the part-time training program as this will allow her to continue working in the school and practice the techniques she is learning.
Looking forward to your favorable consideration.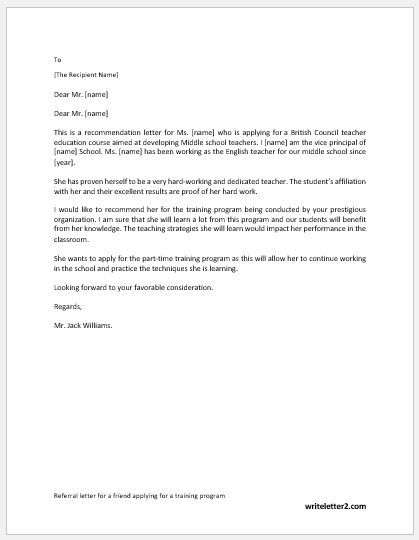 3-
To Whom It May Concern
My name is [enter name] and I am currently enrolled in [enter program] at [enter institution]. With due respect, I would like to refer my friend [enter name] for the training program of [enter details]. I know him since [enter period] and we together had taken many educational and training programs. I find him a potential candidate for this training program.
He is good at learning new things, keeping friendly ties with the fellows, and giving extraordinary output. I hereby request you to consider him for this training program. Thank you!