Referral Letter for a Friend Applying for a Training Program
It is important to know why and when referral letters are written. A referral letter is basically a confirmation or reliability letter that you write for someone. Its purpose is to confirm that you know the person and assure that you consider him a potential person to be referred. Referral letters can be written by ex-employers for their employees, teachers for their students to get admission in good institutes or friends and colleagues for their friends etc. It should be noted that a referral letter is a letter of response. Referral letters should not be written if you do not consider the relevant person capable. It will be an undue favor in this case and will snatch the right of a deserving person.
This sample letter given below can be used to write a referral letter for a friend applying for a training program.
Referral Letter for a Friend Applying for a Training Program
[Your Name]
[Address]
[Letter Date]
[Recipients Name]-optional
[Address]-optional
To Whom It May Concern
Dear [Recipient's Name],
My name is [enter name] and I am currently enrolled in [enter program] at [enter institution]. With due respect, I would like to refer my friend [enter name] for the training program of [enter details]. I know him since [enter period] and we together had taken many educational and training programs. I find him a potential candidate for this training program. He is good at learning new things, keeping friendly ties with the fellows and giving extraordinary output. I hereby request you to consider him for this training program. Thank you!
Sincerely,
[Your Name]
[Senders Title] -Optional-
Download Details: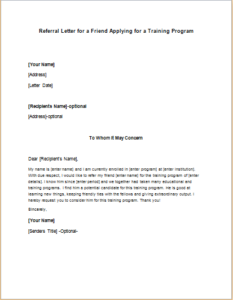 Referral Letter for a Friend Applying for a Training Program
Size: 25 KB Word .doc File 2003 & later
Download
Size: 171 KB PDF File
Download
[personal use only: Not for Resale & Distribution]