Letter to Confirm New Policies Implementation
This letter is written in order to let the staff of the company or any organization knows that old policies have been replaced by new one. This letter contains a type of notifications for others. It is important to give all the details related to the policies. The letter should explain the background of policies. For example, the old policies may have been discussed in some previous meetings where the participants of the meeting would have decided to change them. The date, day and time of that meeting should be written in the letter. Another important thing to be included in the letter is the reason for changing the new policies and also telling in detail all the effects which the company will have on it due to the implementation of new policies. The letter to confirm new policies implementation is written to ensure that the old policies are no longer functional. You can also list down all the new policies which are going to be implemented.
Letter to Confirm New Policies Implementation
[Your Name]
[Address]
[Letter Date]
[Recipients Name]
[Address]
[Subject: Subject of Letter] -Optional-
Dear [Recipient's Name],
This letter has been written in order to confirm the policies which were discussed in the last meeting held on [Day/Date]. Those policies have been summarized and are given below:
[Policy Detail]
[Policy Detail]
[Continue…]
The new policies should be known by all subordinates so that they can handle all the uncertainties like those which emerged in past. Your support for the implementation of the policies is required and we hope that the new policies will be very much beneficial for both company and the people working in it.
Sincerely,
[Your Name]
[Senders Title] -Optional-
Download Details: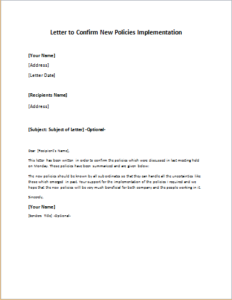 Letter to Confirm New Policies Implementation
Size: 26 KB Word .doc File 2003 & later
Download
Size: 199 KB PDF File
Download
[personal use only: Not for Resale & Distribution]