Thank You Letter to Someone for his/her Hard Work
After putting your tireless and determined efforts into a seemingly difficult project, you finally make it successful but guess what? You get no words of recognition, not even a thank you. You'd surely want to quit the employment at the very moment if you're presented with another choice. The place where your hard work is not even rewarded with a thank you was surely not made for you. So, I say, Thank yous are important. They make your employees feel valued and if not given makes they feel like a bunch of valueless people rather donkey's working day and night.
Remember it's not only the money that an employee works for. Words of appreciation, little moments of recognition and words of gratitude like 'Thank you' help them work from their heart, with utmost devotion. What you should never forget is to thank a person for his hard work be he your employee, your co-workers, your junior whoever. If you value people's hard work today, your hard work will be valued tomorrow.
LETTER
Dear [Recipient's Name],
I'm writing this letter to you in order to thank you for your hard work that you have been putting into your work. The difference between a work that is done just as a work and the work that is done with devotion can clearly be seen when I compare your work with other employees. You have also been submitting your work well in time and made every project successful in the last two months. I owe you thanks for all that. Along with this, I am happy to announce to you the news of increment in your salary. You deserve this for the hard work that you are putting into your work. Thank you again and keep working hard.
Sincerely,
[Your Name]
[Senders Title] -Optional-
Download Details: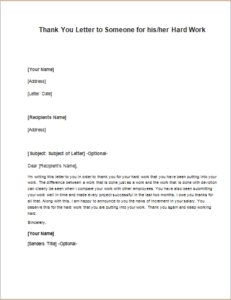 Thank You Letter to Someone for his/her Hard Work
Size: 25 KB Word .doc File 2003 & later
Download
Size: 169 KB PDF File
Download
[personal use only: Not for Resale & Distribution]