Bad Customer Service Apology Letter
Service industries have to be very keen on the services they offer to their clients. The clients deserve the best service in exchange for the money they pay. Uncertain circumstances can result in poor services being offered to the clients. Writing an apology as a result of a bad service is very important. The best way is to write an apology as soon as you find out that a problem has occurred. Writing an apology letter even the customer didn't complain can leave a lasting positive effect on the client and for the business.
Explain what the problem was, why did it happen and when did it happen. Try not to make any excuses for the mistake done as it will upset the client further. Include a reassurance that such mistakes will not take place in the future. Offer some sort of compensation. Be proactive and make sure that the client relationship is maintained. The language of the letter should be short & simple.
Bad Customer Service Apology Letter
Dear Sir/Madam,
Thank you for writing to us and bringing up the matter to our eyes. With sincere regret, we want to tell you that we feel very embarrassed that we were not able to provide you the service you were looking forward to.
The situation was very uncertain and it is very rare to come through such situations. We have taken your feedback very seriously. You have faced an inconvenience due to our products/services and we would take every step to improve our services. We take full responsibility for our mistake and we would want to make you sure that it will not happen again.
We value our customers a lot and we would like to retain you as our customer. Please accept our apology and we would like to thank you for understanding us.
Regards
[Manager Name]
Download Details: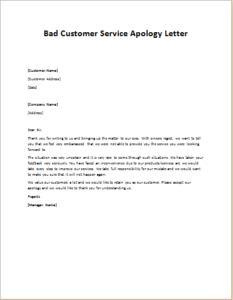 Bad Customer Service Apology Letter
Size: 25 KB Word .doc File 2003 & later
Download
Size: 188 KB PDF File
Download
[personal use only: Not for Resale & Distribution]