Food Allowance Request Messages
1-
With due reverence, it is stated that I am the executive manager in your company. I have been providing my services here for the past ten years. I travel to distant places for the promotion of company's new products. Now five or six more countries have been added to my propagative sector and food is much costly in that countries. I cannot afford food expenses within the given salary; therefore, it is requested to you give me a food allowance while visiting these countries. I will be much thankful to you for giving me the favor.  
2-
Hope you are fine and doing well. The purpose of penning down this message is to ask for a food allowance. I need it besides my monthly salary. Meeting food expenses is becoming very difficult for me. I am living currently in a leased room because I have come from Massachusetts. More than half of my salary is spent on paying rents and bills. Due to this, I cannot buy healthy food. Lack of a healthy diet is affecting my health badly and I am unable to focus properly on my work.
Therefore, I request you to grant me a food allowance monthly. It will help me a lot in focusing on work properly as well as maintaining a healthy diet. I will never forget this act of kindness of yrs. Thank you.
3-
I am Martin Jones and have been an employee in your company for the post of area manager. I have to visit numerous places in a week as part of my official visit. The company gives me a travel allowance each month but I have to eat food from the restaurants that cost much. I cannot manage both food and travel expenses in the given amount.
Therefore, it is my humble request to you to provide me food allowance. It will release my lot of burden and hence I can be able to focus on my work more eagerly. I shall be very grateful to you for granting me this favor. Thanks in advance.
4-
This message is meant to make a request for a food allowance. Most respectfully, it is stated that I am in need of a food allowance on monthly basis. The salary that I get each is not sufficient to meet my food expenses and this thing is becoming problematic for me. There are some less expensive food pints near the company but they do not provide hygienic food. I got food poisoning after eating from there. The restaurants that provide hygienic food are much expensive and I cannot afford to eat from there.
Half of my salary is spent on paying rents, bills, and food expenses and I cannot manage the whole month with the amount. Considering all the above-mentioned situation I request you to give me a food allowance in addition to my monthly salary. This would be an act of kindness on your behalf.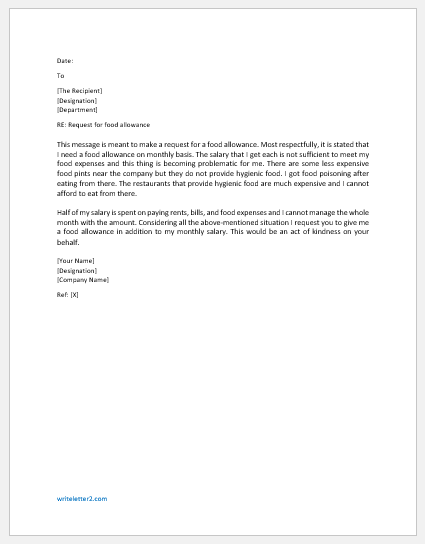 Size: 19 KB Word .doc File 2003 & later
Download
---
5-
Hello sir, I am Steward Luther and have been working as a sales executive in your ABC Company. Last month, I have been upgraded to the post of inspection which means that my number of visits is also increased. With the given fuel allowance, I cannot manage my food expenses and most of my salary is spent on paying food bills. I have to eat almost seven or eight times a week from hotels while visiting distant places for official work. I had made a request last time too but nothing was done in this regard.
This situation is creating a lot of problems for me as I am not focusing attentively on my work. I request you therefore to allow me food allowance on every visit. I will be thankful to you.