Recommendation Letter for an Employee to Organization
Letter -1
10 January 20XX
Georgia Oscar
Brooklyn, ER456

Dear Mr. Oscar, I am writing this letter to you on behalf of Mr. Keats who has worked as a sales manager in my company. He had been given us his services for the last fifteen years, so it is a matter of great felicity for me to recommend him for the post of branch manager in your organization.
While he was here on the aforesaid post, he maintained all the previous and current records of the organization and performed each task energetically. During the time that he spent with us, he completed all the projects on time and proved really an asset for us. He was involved in profound talk with customers and respected all the junior and senior staff.
In my absence, he used to maintain all the official records. He is competent enough as well as an eloquent communicator. He rehabilitated our office system and pace it up to the modern level with his charming performance. He really did an outstanding job here and is well deserved for the post of branch manager in your organization. He is God-gifted with unique qualities such as depth communication with customers, a well-organized personality, and the ability to work independently and to perform countless tasks with a passion to wind up all within the specified time frame.
Moreover, as I remember, once he was given an additional duty in my absence to arrange a meeting with the CEO of our company and he presented unique ideas there which won the heart of everyone. Fulfilling our expectations, he accepted all challenges and completed his tasks in an efficient way. He always remained available for us through difficult circumstances.
Keeping in view his performance there would hardly be any exaggeration in stating that he is highly suitable for your organization based on his excellent communication skills and sensible behavior.
Regards,
Ella Adam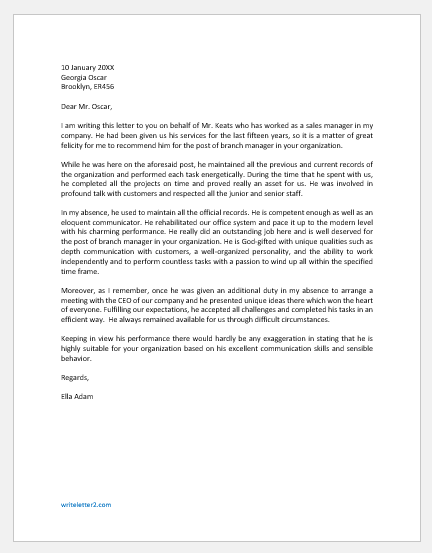 Size: 22 KB Word .doc File 2003 & later
Download
---
Letter -2
09 January 20XX
Thomas Addison
Florida, ER456
Dear Mr. Addison,
As the CEO of the company, I have a very close association with all the employees working in my company. Louis in my view is one of the willful and organized employees here. He has been working with us for the last five years and I have observed him as a well-mannered person and would like to recommend him for the post of assistant business manager in your organization.
He belongs to a noble family and his father Mr. King was also an employee here. Both father and son were truly hard-working, and Louis inherits all the good etiquette that a working employee should have. He has always been available to us whenever we asked him for, and he considered this organization as his second home. He has proved a very hardworking and efficient worker from day first till now and has tried his level best to provide the company best of his services.
As he has done his major degree in Business Management, so his management and commanding skills have helped us to execute the plans that were of great help. He has eloquent communicational and writing skills and can analyze problems and suggest a feasible solution to them.
Keeping in view the above-mentioned traits, I would like to recommend Louis for the post of assistant business manager in your organization. I hope he will also demonstrate his eloquent skills in your organization too and would prove really an asset for you. I wish him the best of luck for a bright future ahead.
Regards,
Aden Walker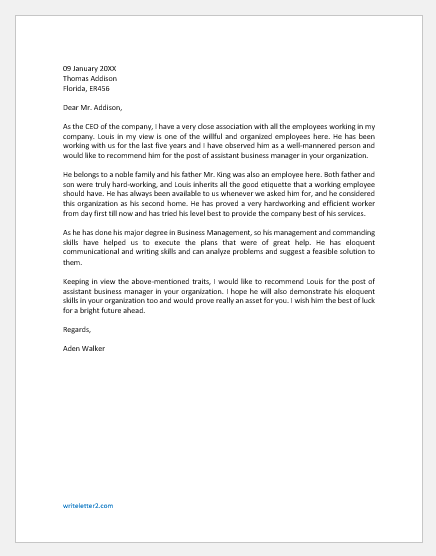 Size: 23 KB Word .doc File 2003 & later
Download