Rental Contract Termination Letter
A rental contract consists of a various set of rules and policies. Both oral and written forms are legal and valid depending on the nature of time. The tenant is bound to follow all the rules. Some limitations also exist in such contracts. Some landlords do not allow the tenants to re-paint the house. Neither can they do any kind of construction. A monthly rent is paid by the tenant. Security deposit is taken from the tenant for redemption and it is returned at the end of an agreement if no damage occurred in tenancy period. The landlord has more authorities than a tenant. But the tenant can also check the house whether it fulfills their requirements or not. With the mutual understanding, a contract or bond is made between them. Sometimes the landlords want to terminate the contract before time under critical circumstances. In the same way, the tenants can also terminate the contract before time under any critical issues. The rental contracts are for houses, offices, buildings etc.
Rental Contract Termination Letter
Robert Albert
16 St. Sun State Avenue, New Mexico
29th December 2016
Mr. Harry Wordsworth
Malcolm Proprietors
46 St, Blue Diamond Avenue, New Mexico
Dear [Recipients Name],
Hope everything is going well. I wanted to inform you that I want to terminate my rental contract. The reason of terminating is that I am shifting to the other state with my family. My wife is a heart surgeon and she got a job in the government hospital with a good package. She will have free family residence from her company. She has to join in the next week so, for this purpose, we have to move urgently. Please visit the house in two to three days to check accordingly as I need the security deposit. You were the kindest landlord ever I met. I have learned a lot from you because of your well-known reputation. With due respect, I need your cooperation. Please let me know if there are any formalities for terminating the contract. Please feel free to contact for any queries.
Waiting for your kind response
Sincerely,
Robert Albert
Download Details: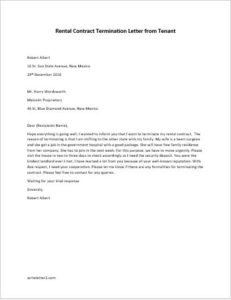 Rental Contract Termination Letter on Tenant's Behalf
Size: 25 KB Word .doc File 2003 & later
Download
Size: 189 KB PDF File
Download
[personal use only: Not for Resale & Distribution]