Complaint Letter for Wrong Product Delivered
With the global advancement, almost all retail outlet and stores have provided the facility of online purchase as well as free delivery. People are having many advantages of this facility. A very small product to a very big product can be delivered at home nowadays. Especially, it is much beneficial for those who have a very busy work schedule. This facility is not as easy as it looks. A proper teamwork and effort are being required from the companies to produce error free results. Additionally, the updates of online websites are needed to be done timely according to new launches. As well as deals and discounts management is also a complex process indirectly. Hence, it shows that much experience, skill and expertise is needed in the delivery of goods through online purchases. But still, nothing can be 100 percent perfect. The chances of errors always exist. Often a wrong or defective product is delivered. Then complaints should be done for replacement or refund.
Complaint Letter for Wrong Product Delivered
Malcolm High School.
Elsa Chanson.
24 St. Ocean Avenue, New York.
August 23, 2017
Mr. Nicholas Butcher
Marketing Manager
Symbols Electronics Online Store.
36 St. Sun Set Avenue, New York.
Dear [Recipients Name],
I am writing to register a complaint about the wrong product I received today. I am Elsa Chanson, Vice Principal of Malcolm High School. I had ordered ten projectors with sound system three days ago. The order stated that delivery will be done within three days. As per the order, I received the delivery today. Unfortunately, I received the wrong product. When I opened, I found 25 inches LCD's. It sounds much troublesome for me. Our annual dramatics and Presentation Gala is just starting within four days. It will take two days for installation of the projectors in their respective places. So, I have just two days left for bringing the projectors and sound system. I request you to send me the correct product within the stated time. I have enclosed the printed copy of my online order along with the letter.
I am waiting for a prompt replacement.
Regards,
Elsa Chanson.
Vice Principal, Malcolm High School.
Download Details: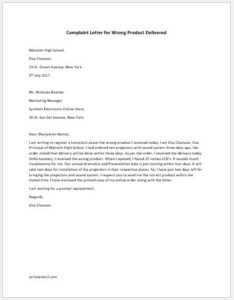 Complaint Letter for Wrong Product Delivered

Size: 38 KB Word .doc File 2003 & later
Download
Mobile Version: Polaris Office & Google Docs
Size: 25 KB File
Download
[personal use only: Not for Resale & Distribution]