Request Letter of Transfer to another Branch
Sample -1
I am Henry, Sales supervisor in your company and I am working for the last ten years. I am writing you this letter to submit you a formal request for my transfer to [enter branch]. Although I enjoyed every moment throughout this period while working in this organization and I established good relations with senior and junior colleagues of my staff as well.
Also, I was happy with the manageable workload and peaceful working environment. But now, I want myself to be transferred to my desired company branch owing to circumstances that are beyond my control.
I want to inform you that a serious illness in one of my family members has made it necessary for me to relocate and I want your favor in this regard. My brother has been diagnosed with cancer and there is nobody at home to take care of him except me.
I am living here alone and the rest of my family members including my brother are in another city which is far away from here. My parents are too old to take complete care of my brother and therefore, I decided to request you for my transfer.
Fortunately, I have come to know through resources that a new branch of our company is going to be established in the next month. Most important thing is that the upcoming branch is near my house and it will take me hardly half an hour to reach the branch daily.
This way, I can not only perform my duties efficiently and with more devotion but my brother could also be taken well care of. I would like to devote myself to this company and I am hopeful that we can talk regarding this matter to find out a solution that suits both of our needs.
Keeping in view my situation, I request you to entertain my request and transfer me to my desired branch which is located near my home. I shall be thankful to you for this act of kindness.
Sincerely.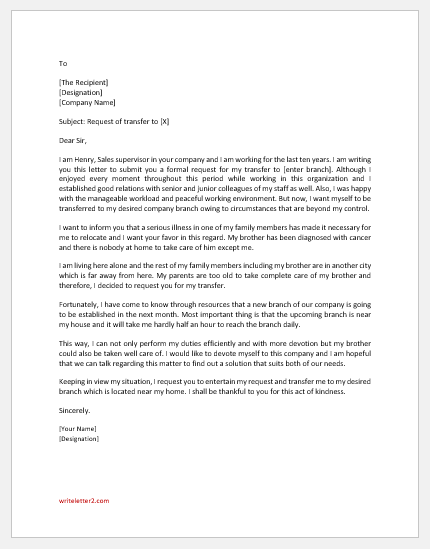 Size: 22 KB Word .doc File 2003 & later
Download
---
Sample -2
Subject: Request of transfer to [X]
Dear Sir,
I, Stewart, working as a shift in charge for the last ten years, submitting my request through this letter to transfer me to my desired branch which is located [place name].
It is hereby informed that due to some circumstance, I had to change my residence to another city and my real problem is that the new residence is far away from this branch. Nowadays, I am feeling much difficulty in going to and from the office on time.
I also got late from the office on a couple of occasions and received a warning letter from the manager due to this reason. I was highly embarrassed by this situation because I am in a habit of reaching the office on time.
Dear Sir, I have read the rules and regulations of the company thoroughly. It is mentioned over there that an employee should be placed at a nearby branch to his/her home. As per the existing policy of the company regarding the transfer, I am eligible to be transferred to my proposed branch which is located near to my home.
It hardly takes me 15 minutes to reach there while in contrast, my current branch office is more than 30 kilometers away from my current residence.
I, therefore, request you to transfer me to my proposed branch so that I would be able to work efficiently and with more devotion. I am requesting to change my branch and your favor in this regard will be highly appreciated. Thanking you in anticipation.
Yours sincerely.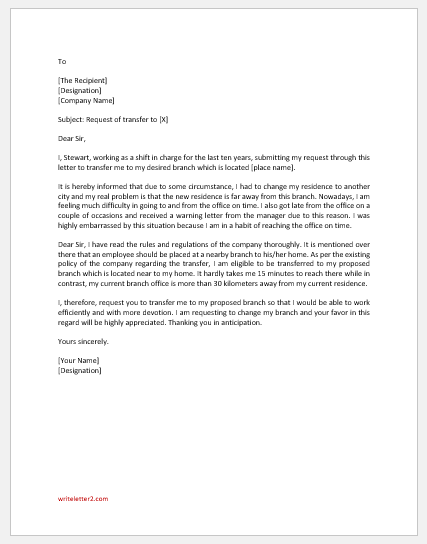 Size: 20 KB Word .doc File 2003 & later
Download