Salary Certificate Request Letter Samples
#1
Re. Request for Salary Certificate for the Home Loan Application in the Bank [NAME]
Dear Sir, I am [NAME]. I have been working in your company since 20XX which means I have completed [X] years working here. I joined the company in 20XX as a [POSITION]. Later, in 20XX, I was promoted to the designation of a [POSITION]. I am working on the rank [x] which means I am eligible to apply for loans of certain kinds from different finance institutes or companies to get loans or credits. For this, I need a salary certificate, for which I am writing this letter.
I have applied for a home loan in a private financial institute/company named [NAME]. I have applied for the 30-months installment plan which means the loan shall be paid back in thirty months. I have to submit a few official documents to the company to get approval for the loan. For that, I need two guarantors of the same cadre and a salary certificate.
Therefore, I am writing to request a salary certificate with certain credentials mentioned. The certificate must have my salary mentioned in exact numbers, type of employment, terms of reference, and approval by the company's accounts department.
I request you to grant me my salary certificate as soon as possible. In case of late release of salary certificate, the process shall be lagged due to further processing. Please contact me if there is any confusion. I am thankful to you for your cooperation.
Regards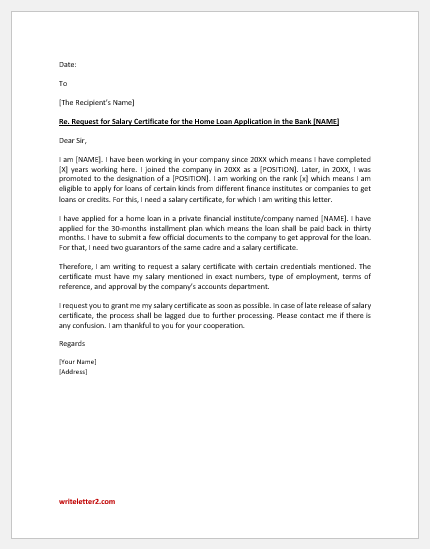 Size: 16 KB Word .doc File 2003 & later
#2
Re. Salary Certificate Request Letter
Dear Sir,
This letter has been penned to request the salary certificate. I have applied for a car loan from a financial aid company. The company's name is [NAME] and it is situated in [AREA]. The company provides loans for different purposes on wide ranges depending on the cadre and grading of the borrower's current employment status.
The company offers various installment plans to get back the loan that is client-friendly. It is anticipated that no hustle or trouble would be caused in repayment of the loan.
On [DATE], I applied for a car loan from the mentioned company. The company has given consent to my car loan. After doing the basic screening, they asked me to submit a few official documents that should be verified and duly stamped by the DALP. the requisite documents also include a current salary certificate.
The salary certificate should have my employment status, cadre, current salary in numbers and words, and other credentials. I request you to grant me a salary certificate as soon as before [DATE]. Late submission can cause complications and inconvenience.
For further, please call me at [PHONE], or write to me at [EMAIL]. I have enclosed the company's letter asking for a salary certificate. I have also included my salary slip and credit report for your convenience and any processing at the departmental level. I shall be grateful if you approve my request and direct the release of the salary certificate. Thank you.
Regards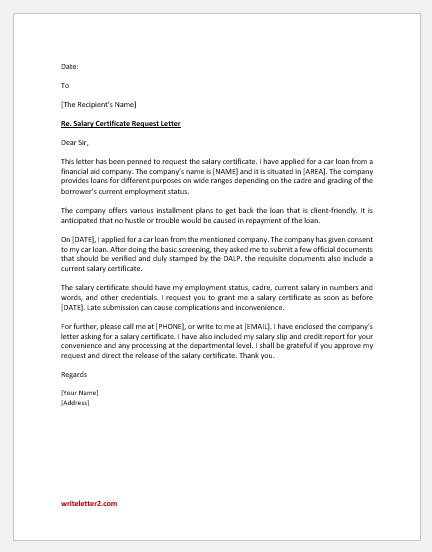 Size: 16 KB Word .doc File 2003 & later