Apology Letter for Not Attending a Seminar
Apology letters are good to say sorry and committing not to repeat that action again. To make an apology for the absence of a seminar which was planned and the host was expecting your presence, needs to apologize as soon as possible.
It is always advisable to state the reason to the point. Explain what actually has happened and why you couldn't make that important event attended.
In the end, make sure if such arrangement is made in future and you are invited you will never miss it again with the utmost effort.  Try to get the updates about the seminar and make sure to attend if it is scheduled again.
Apology Letter for Not Attending a Seminar
[Your Name]
[Address]
[Date]
Dear [Recipient Name],
I remember I had to pick you up the other day for attending the seminar together. It was always on my mind. You know how excited I was to attend this seminar with you. I dropped you a message a day before that I will not able to make it for the seminar. I hope you did your arrangements and did make it to the event.
Two days before the seminar, I started feeling pain in my right leg and the pain went so bad that it was getting hard for me to move around. So I took an appointment with a doctor and the doctor sensed some form of fracture in my leg. I took an x-ray and I am still waiting for my reports.
The doctor advised me to take proper bed rest and not move a lot. I did put an effort to try and attend the seminar but you know attending networking events mean moving a lot and that can cause further damage to my leg. So I decided to better stay at home and take proper rest.
I might not be able to hang around for a couple of months. I have already applied for a medical leave at work. I hope the seminar went well. Share with me the happenings of the event and give me insights about it.
I will be waiting to hear from you soon. Please accept my sincere apology and come around some time over a cup of coffee.
Sincerely,
[Your Name]
Download Details: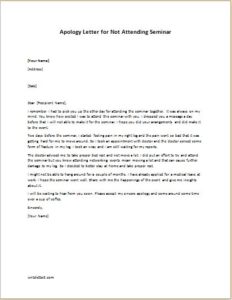 Apology Letter for Not Attending Seminar
Size: 33 KB Word .doc File 2003 & later
Download
Size: 312 KB PDF File
Download
[personal use only: Not for Resale & Distribution]