Show Cause Letter on Customer Complaint Report
Sample Letter -1
Subject: Explanation on customer complaint report

Dear John,
The purpose of writing you this letter is to inform you that it has come to our notice by one of our potential customers that he has been scammed by you in the amount that actually had to be transferred in his account within a specified time limit. As you are concerned with the accounts section, therefore you were given a cheque number ABC 1Q345 the amount of which had to be transferred in the customer's account. It was reported to us by Mr. Lee, who is the aggrieved customer in this case. As per the rules and regulations of the company, it takes one day for an amount to be transferred to the customer's account.
Mr. Lee waited for three days, thinking that there must be a technical problem with the company's system. Yesterday, he lodged a complaint in the head office that despite passing four days, the said amount has not been transferred in his account. When we investigated the matter, we came to know that no such cheque was sent by you for further processing and verification process whereas you had issued a receipt to the customer.
The situation is indicating that you have been accused of scam with our respected customer. Our customers mean a lot to us and we have a zero-tolerance policy for such scams with them. Considering the severity of the matter, you are being given a time of 24 hours in order to explain your position regarding the fact why has the amount not yet been transferred. Moreover, if you fail to produce sufficient proof in support of your argument or do not submit an answer, it will be confirmed as a scam and you will have to be suspended as per the existing rules of the company.
I hope you will understand the problem and submit your answer within a day.
Sincerely,
[XYZ]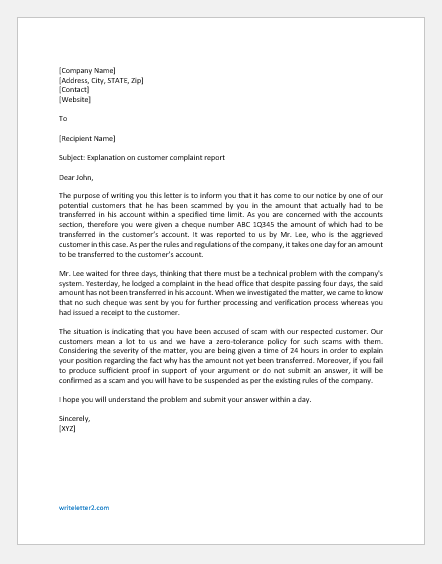 Size: 21 KB Word .doc File 2003 & later
Download
---
Sample Letter -2
Subject: Show cause on customer complaint report
Hello Robert,
My name is Johnson, working as a director in Stars Constructions, Michigan. I have been given the responsibility to submit the report of inquiry which has been initiated against you after a complaint lodged by Mr. Lee, who is working as a supervisor in the Bonanza garments factory. He was of the point that the material used by you in the construction of a plant in the factory was of poor quality. Moreover, you have been accused of using substandard material in construction, corruption, and some other allegations of the same nature mentioned in his complaint report.
In response to the aggrieved customer, our project manager visited the site and found that most of the concerns raised by the customer were of genuine nature and thereby it was proved that you have used low-quality material in construction work. His findings are being enclosed with this letter.
You have been working with us as a contractor for more than five years. Despite the availability of a lot of contractors, we preferred you to think you as an honest person for this task. You have not only failed to prove your worth but also caused great harm to the company's repute.
Since I am a competent authority in this case and concerned with checking the efficiency and accountability matters of the company, therefore, before submission of the inquiry report to the higher authorities, I am giving you a time of two days in order to explain and defend your position. If you fail to comply with the instructions, it will be considered that you have nothing to say as your defense. Then disciplinary action will be taken against you in light of the customer's complaint report.
Sincerely,
[XYZ]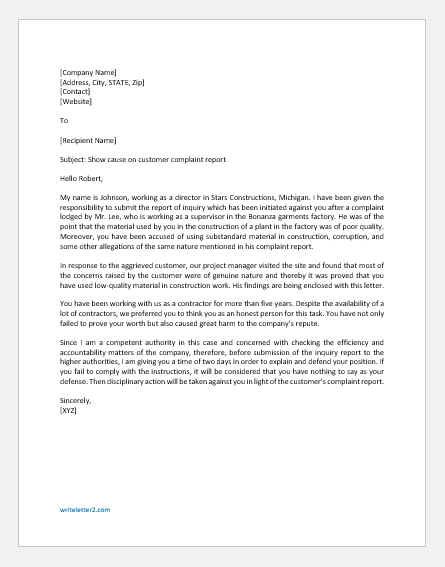 Size: 22 KB Word .doc File 2003 & later
Download