Letter of Appreciation for Good Service
The letter of appreciation is written by higher authorities of the company or heads of the departments for motivating their employees for doing good work. The letter of appreciation shows that someone has done really a good job and deserves appreciation. Those individuals who have received good services from someone can write this letter in a better way.
A perfectly written appreciation letter can serve the purpose of motivating the person. The tone of the person should be positive and he should express that he has greatly impressed by the services which someone has provided.
The appreciation letter makes the employee work better in the future and you can write in the letter that you expect them to work with even more effort to produce good results. You can also add some tips related to the work if you want to give however, it is not mandatory.
#1
Dear [Recipient's Name],
I am writing this letter to let you know that I highly appreciate the services which staff of your company has provided. I visited your store for some shopping and assistance. Your staff was very cooperative with me and I was really impressed by their services. They accelerated the process of shopping and helped where I needed them.
I am very much satisfied with the purchases which I have made. I will continue visiting your store for shopping and I will continue recommending others to make purchases from your shop. I look forward to coming to your shop again.
#2
Subject: Appreciation for good service of [X]
Dear Simon,
We want to take this opportunity to say thank you for your best services at your city branch. We have been doing business far and wide on different hardware items. After doing a comprehensive analysis of the market, we have discovered that your services are as excellent as your slogan. Your products have been found durable and reliable. In addition, you have made your reputation in the market by accepting all the returned items. You are not paralleled by any other company in terms of providing quality products at a low cost.
We found that your prices are five percent less than the whole market. This discounted price will result in large savings since we have ordered the products in bulk quantity.
We have been doing business with you for the last 7 years. You have always delivered our required hardware items on time. Sometimes, you delivered us much-needed items on the same day which is appreciable. I am proud to say that we have established business relations with professional and reliable vendors like you.
Recently, you delivered us a laptop of the latest generation along with advanced keyboards and application software. We were greatly impressed by the quality of the products you delivered to us. In addition, your representative executed the best knowledge of the latest products and he impressed us a lot. By means of your best features, you have become our top priority.
Lastly, we appreciate your excellent services and look forward to establishing strong business relations with you. As a token of love and appreciation, I have referred your company to my best friend. He will be in contact with you very soon.
Thank you very much for providing us with quality services.
Sincerely,
Bob Williams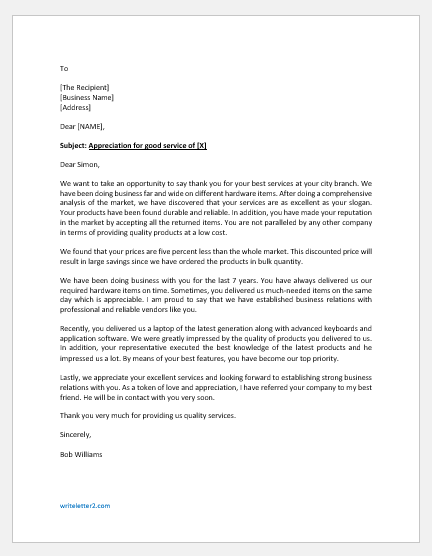 Size: 25 KB Word .doc File 2003 & later
Download
---
#3
Subject: Appreciation for good service at [X}
Dear Simon,
Hi! My name is James and I am a regular customer of your company. I want to drop thank you note through this letter. I was impressed by the quality of services you provided to me during my visit to your canal view branch. Rest assured; you are doing a fantastic job because you have a vast selection of products at unbeatable prices. Every time I visited your branch, your staff provided me the best services. They are attentive and have great communication skills. I particularly appreciate their way of dealing with all the customers with a smile which really makes a difference.
Whenever I visited your branch to see fresh products, your staff offered me a warm welcome with a friendly smile. Last week, I visited your branch to find a new line of products. I greatly appreciate your three staff members named Andrew, Lee, and Jackson who were friendly, active, and helpful. Instead of making quick sales, they were interested in offering genuine help to customers to satisfy them. They had the best knowledge about all the products of your store and helped me find a product of my choice.
Your service is unparalleled and due to it, I was satisfied because I have found what I needed. I will not only love to continue shopping from your branch but also glad to recommend it to my friends. Luckily, you have got the best staff for your branch that makes all the customers feel honored and valued. In my next visit, a couple of my best friends will also accompany me as your future potential clients. Your dedication will help you achieve great success in the market and consequently, your client number will increase.
I wish you all the best.
Sincerely,
Anna Williams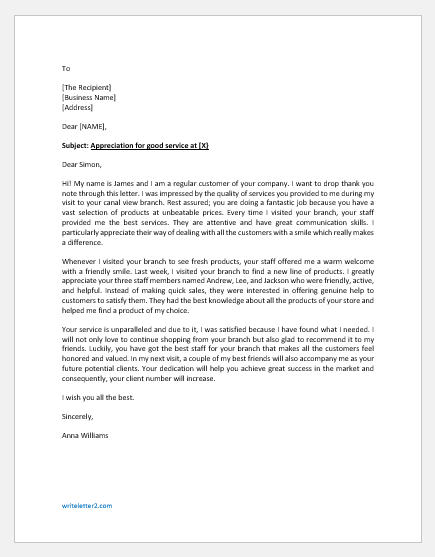 Size: 22 KB Word .doc File 2003 & later
Download