Sorry Letter from Tenant for not Paying the Rent on Time
Hardships can come on anyone at any time. But one needs to be very patient to cope with the situation. First of all, we need to find all suitable possibilities. We should also try to take advice from the nearest and dearest. After finding a possible way out, we can try them as soon as possible to tackle the situation. Sometimes various issues arise regarding our dues like children's school fees, house rent, utility bills etc. In this fast world, this situation seems too intricate. Extra charges are always taken on all dues if not paid on time. All people always try to keep backup beforehand, but sometimes uncertainty takes away all the savings of a person. Such examples include severing illness, serious accidents, unexpected death or sudden robberies. No one can stop such uncertainties as they are natural. In the case of tenancy, sometimes tenant is unable to pay the rent on time as if he loses his job or any serious illness of his family occurs. For this purpose, he needs to formally apologize to have cooperation in future. And apologizing and thanking just builds more trust among the people.
Sorry Letter from Tenant for not Paying the Rent on Time
Morgan De Wilson
Block 20C. Sun Bath Avenue, California
7th October 2016
Mr. Wheelock Willits
Landlord, Rental Associates and Advisors
16 St, Boulevard Enclave, California
Dear [Recipients Name],
Hope you are doing great. I am writing for a sincere apology for not being able to pay the rent on time. My rent is due on 2nd August 2017. Last week I got severe illness. I was admitted to the hospital for the whole week. I took all my official leaves last month for brother's wedding. Due to this reason, these leaves were unpaid. Hospital expenses were too much which I had to pay on time. I am embarrassed in this situation. I understand that you always need the rent on time to keep everything smooth. I would be able to pay you with the next month's rent. Please accept my lowly request. I wish to stay in your apartment till my contract ends. I will be careful in future.
Waiting for your kind response.
Yours Truly,
Morgan De Wilson
Download Details: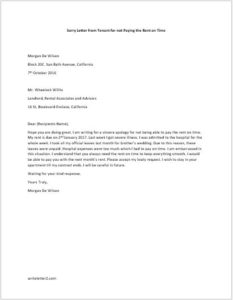 Sorry Letter from Tenant for not Paying the Rent on Time

Size: 25 KB Word .doc File 2003 & later
Download
Size: 189 KB PDF File
Download
[personal use only: Not for Resale & Distribution]