Appreciation Letter to a Pastor
If a person is performing some job in a befitting manner then there are two basic requirements that need to be fulfilled, one is salary and other is an appreciation of his job. But there are some special sorts of jobs that are to serve the humanity and focus on this specific job is well above from salary or appreciation like Priest or Pastor.
A Pastor spends his whole life to reform people and to serve the humanity. But as a human being, he also needs money to fulfill his basic need and appreciation of his work to fulfill the spiritual requirement. He can perform with more enthusiasm and passion if we will appreciate his work.
It would not only be the matter of pleasure for him if we will share our positive thoughts or optimistic attitude after attending his lectures but it will also raise self-esteem.
Therefore, writing a letter a pastor to appreciate him will definitely not go unregistered. Moreover, it will eventually benefit to all of us.
1-
I am a silent member of your congregation. I have been coming to this church since [year] and during all this time I have been deeply touched and moved your sermons in the Sunday service. Your words have affected my thoughts and feelings especially the way you emphasize the importance of service to humanity and how a little kindness goes a long way.
I have often come to the Church with a heavy heart or a troubled mind but your words have always had a calming effect on me. You made me see that this world was temporary and so are its troubles. We need to focus on the bigger picture. You taught me to take charge of my life and spend it in the service of God and fellow men, as that was the only true success.
the truth is that no words can express my gratitude and I have no means to show my appreciation for the role you have played in my personal and spiritual growth. May God bless you and reward you abundantly for the good you do every day, guiding your congregation and helping them through both worldly problems and spiritual issues.
2-
I have recently moved to this area and started attending your Sunday service from last month. I am writing to convey my admiration for your eloquence and the beauty of your sermons. You capture the congregation's attention the moment you step up to the podium and everyone keeps listening mesmerized until you end.
Your sermon last week especially resonated with me. It felt as if you could hear my thoughts and knew what troubled me. Your words were like a medicine and my soul felt healed after listening to you. When I stepped out of the church, I felt lighter and happier.
When you said the we should let God take control and stop worrying about everything and micromanaging every problem, I realized that was the source of my anxiety. The thing is, professionally I am at a point where I have worked really hard on a project and now either all my efforts would be rewarded or it would all go to waste. The stress was giving me sleepless nights.
Your words gave me hope. They made me realize that all we can do is try and then hope for the best as God alone has the power to reward our efforts and He alone knows what's best for us.
I am grateful for your kind and thoughtful words they truly changed my perspective and gave me courage. God bless you and may this community always have you to guide and lead.
3-
David Wheelock
56 St. Sunset Avenues, Arizona.
[Date]
Mr. William Conner
Pastor
Congregational Church
11 St. Sunrise Avenues, Arizona.
Dear [Recipients Name],
Hope you are fine and enjoying the best of your health. I am writing this letter to confess my changing attitude in a positive manner. I have almost ruined my bad habits in the speculated time frame of three months only. When one of my fellows guided me to attend your lectures to bring optimistic approach in life, I just thought it was a joke that how a person changes with attending some lectures only.
Now, I can proudly say that it was not only lectures that I had attended but your pious personality also magically affected my behavior and let me think on life in a positive manner.
I have realized in a true manner that money cannot buy everything like peace and happiness. True happiness is in helping other, having a nice behavior with all persons. Thank you, Pastor, once again for changing my life.
May your congregation increase day by day.
Sincerely,
David Wheelock
Download Details: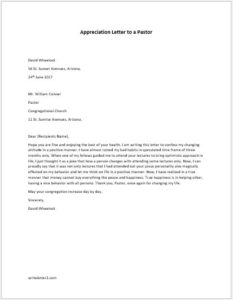 Size: 28 KB