Appreciation Letter to a Pastor
If a person is performing some job in a befitting manner then there are two basic requirements that need to be fulfilled, one is salary and other is an appreciation of his job. But there are some special sorts of jobs that are to serve the humanity and focus on this specific job is well above from salary or appreciation like Priest or Pastor. A Pastor spends his whole life to reform people and to serve the humanity. But as a human being, he also needs money to fulfill his basic need and appreciation of his work to fulfill the spiritual requirement. He can perform with more enthusiasm and passion if we will appreciate his work.
It would not only be the matter of pleasure for him if we will share our positive thoughts or optimistic attitude after attending his lectures but it will also raise self-esteem. Therefore, writing a letter a pastor to appreciate him will definitely not go unregistered. Moreover, it will eventually benefit to all of us.
Appreciation Letter to a Pastor
David Wheelock
56 St. Sunset Avenues, Arizona.
24th June 2017
Mr. William Conner
Pastor
Congregational Church
11 St. Sunrise Avenues, Arizona.
Dear [Recipients Name],
Hope you are fine and enjoying the best of your health. I am writing this letter to confess my changing attitude in a positive manner. I have almost ruined my bad habits in the speculated time frame of three months only. When one of my fellows guided me to attend your lectures to bring optimistic approach in life, I just thought it was a joke that how a person changes with attending some lectures only. Now, I can proudly say that it was not only lectures that I had attended but your pious personality also magically affected my behavior and let me think on life in a positive manner. Now, I have realized in a true manner that money cannot buy everything like peace and happiness. True happiness is in helping other, having a nice behavior with all persons. Thank you, Pastor, once again for changing my life.
May your congregation increase day by day.
Sincerely,
David Wheelock
Download Details: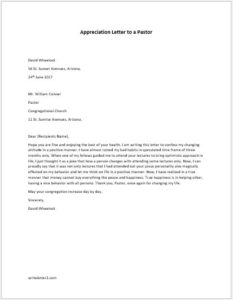 Appreciation Letter to a Pastor

Size: 28 KB Word .doc File 2003 & later
Download
Mobile Version: Polaris Office & Google Docs
Size: 20 KB File
Download
[personal use only: Not for Resale & Distribution]