Credit Approval Letter
Banks are to keep your money safe. They serve multiple other purposes too. Everything in banks works according to some rules and regulations. One of those rules is that banks allow individuals a specific amount to be kept in banks. If the credit is to be exceeded, a request letter should be written prior to that. The bank approves the letter and the client can then increase his amount in his account.
Exceeding a certain credit limit without the bank's permission is illegal and in this case, the bank either charges the customer freezes the account or takes other actions. A customer also has to pay the bank on a monthly basis for the bank's services according to the credit limit of his account.
Credit Approval Letter
[Subject: Subject of Letter] -Optional-
Dear [Recipient's Name],
This letter is to inform you that your credit application has been approved. You can now enjoy the benefit of [enter credit limit]. For this, the monthly billing amount has also been changed. You'll now have to pay [enter amount] as the monthly bill. Please find the enclosed document to know about the credit terms and conditions.
For any queries, feel free to contact us at 000000000.
Sincerely,
Hanna Jhonson
[Senders Title] -Optional-
Download Details: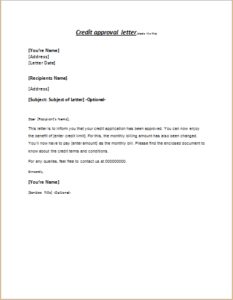 Credit Approval Letter
Size: 25 KB Word .doc File 2003 & later
Download
Size: 351 KB PDF File
Download
[personal use only: Not for Resale & Distribution]