Request Letter for Salary Arrears
1-
Dear Sir, I hope you will be fine. My name is Anna Williams and I am working as an assistant manager in your organization since May, 20XX. I have accumulated 15 years of service in my account. According to an announcement made by the management of our company, the finance department was issued a circular in which they were directed to adjust an increment in the basic salaries of those employees who have completed 15 years of service within this organization. This circular was issued on the 30th of September and was to be implemented from the 1st of October, 20XX.  
Since I have also completed 15 years of service, therefore I am also eligible and entitled to be given an increment of 10 percent in my basic salary as per notification of the company. But the problem I am facing is that it has been three months since the circular has been issued and since then, I am receiving my salary without increment and the same has been accumulated as salary arrears.
The occurrence of such a problem in this organization is something beyond my level of understanding because I had not faced such a problem during my whole service. I have sent several emails to the Head of the finance department and requested him to resolve my issue but unfortunately, my issue remained unresolved.
Now, I am requesting you to look into the matter and direct the finance department to increase my salary as per notification and adjust the arrears in my salary accordingly.
I shall be grateful if you give your kind attention to my request and direct the finance department personally to resolve my issue. Thanking you in anticipation.
Yours sincerely,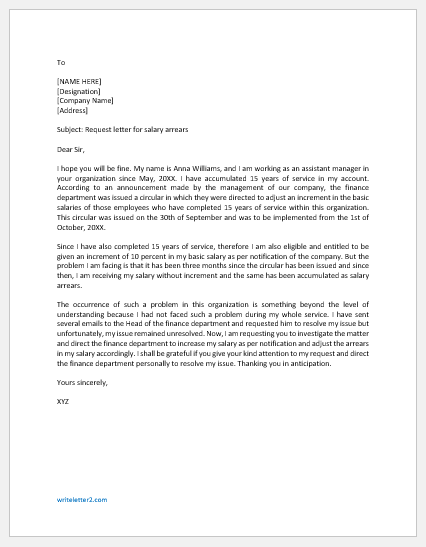 2-
I hope you will be doing well. My name is Johnson, working as marketing manager in this company since 2000. I am writing you this letter to send you my formal request for payment of my salary arrears. I have more than 20 years of service on my credit and it was decided in the last annual meeting of the company that after the completion of 20 years of service, the employee will be promoted to the next rank.
Keeping in view the policy, I was elevated to the rank of marketing manager from assistant manager of marketing. With my promotion, there was also an increment of US$ 2000 in my salary.
But the issue I am facing now is that despite an increase in my salary, I have been receiving the same salary as it was before my promotion. Once I talked to the head of the finance department about this matter and he told me that my salary will be adjusted accordingly and the amount in lieu of salary up-gradation will be paid in the form of salary arrears. Now, it has been more than six months, and neither my salary has been upgraded nor have I received any salary arrears.
Despite sending many emails to the finance department, my issue remained unresolved and it seems that the concerned department has no interest in resolving this issue and it all went in vain. That is why I have been forced to write to you like this.
I am requesting you humbly to resolve my issue and direct the finance department to pay my salary arrears which are pending for the last six months. It would be a great virtue from your side if you give your kind consideration to my request on an urgent basis. I shall be very thankful to you for this act of kindness. Thanking you in anticipation.
Yours sincerely,