Retirement Announcement Letter to Clients
1-
RE. ANNOUNCEMENT OF MR. REGAL'S RETIREMENT IN CAT-B
Dear Clients, this letter has been drafted to inform the retirement of Mr. Regal from his designation of General Manager and Consultant of SAMS Industry PVT. LTD, Boston. Mr. Regal has decided to take retirement as he completes his career of 21 years of working on [DATE]. He has decided to get his retirement in category B as of the completion of 21 years of working. He plans to not work in further extension and wants to freelance.
Mr. Regal is one of the finest men in the industry and possesses a high-quality image in everyone's mind. He is the favorite of every client, customer, and colleague. His kind and amiable nature make him popular and encompass the industry. Our industry has seen many years of trials and turmoil as we all do in businesses, the one face who was positive and hopeful was Mr. Regals. He keeps the credit of being a co-founder of the industry. In the wake of Covid-19, the way Mr. Regal steered the business in an appreciable and commendable approach.
Thus, it is to inform all of you to collect your pendant or communicate with the Department of Human Resources in this regard. The retirement of Mr. Regal will be effected from [DATE]. From [DATE], our newly appointed General Manager and Consultant, Mr. Chandler shall assume the charge.
We would like to invite you all to the farewell party of Mr. Regal. He would be surprised and delighted to see his clients attending the party bidding him farewell. We shall communicate the party details after having acknowledgments to this letter from you. You can call us at +[X] for details.
Regards
Andrew Greene
Assistant Manager
SAMS Industry Pvt. Ltd.
32-D Sector 11-R, Township,
San Francisco, CA
USA
(Signature)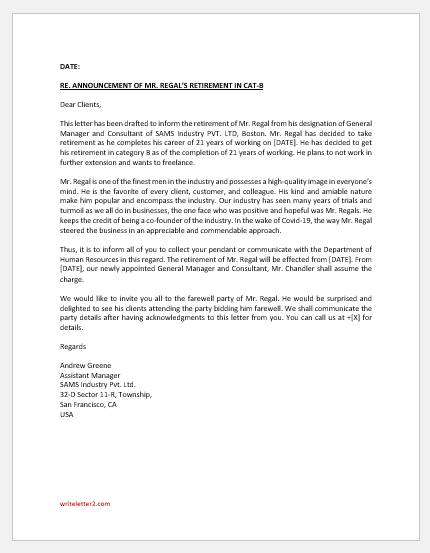 Size: 21 KB Word .doc File 2003 & later
Download
---
2-
RE. PROJECT MANAGER, JOLE'S RETIREMENT ANNOUNCEMENT
Reverend Clients,
With reference to the above-mentioned subject, I am sad to inform you that one of the finest names in the corporate sector is going to leave the designation as per retirement w.e.f [DATE].
Mr. Jole who has been working in this company since 2001, has completed his age of services along with the extension of five years. At the identified age, he is going to retire from work. Mr. Jole has been working as a Senior Project Manager at Grade F-19, one of the most senior ranks, since 2013. In 2016, he was given an extension of five years from the retirement age to get more out of this institution named Jole.
Mr. Jole has always been a highly professional, friendly, hard-working, and honest employee. He has been popular and wanted equally among his clients and coworkers. His honesty and highly committed attitude gave him the privilege of winning the Corporate STN Award in 2013 and then the Best Consultant Award from the Thailand International Community Organization Awards in 2017.
Jole plans to continue working as a freelancer from home and provide private consultancy online. He is one of the most energetic fellows who does not want to make his retired life lethargic, sluggish, and filled with boredom, rather he plans to keep working from home while staying vibrant and continuing the process of teaching and learning.
We would like to have all our clients at the farewell dinner in the Tasters Restaurant at 7 PM on [X] as a tribute to all the rendered services. Moreover, the dinner shall introduce our new project Manager who will interact/work with you on project management from [X].
Thank you.
Regards
Jeniffer Dunster
Assistant Manager HR
Silver STP Organization
(Signature)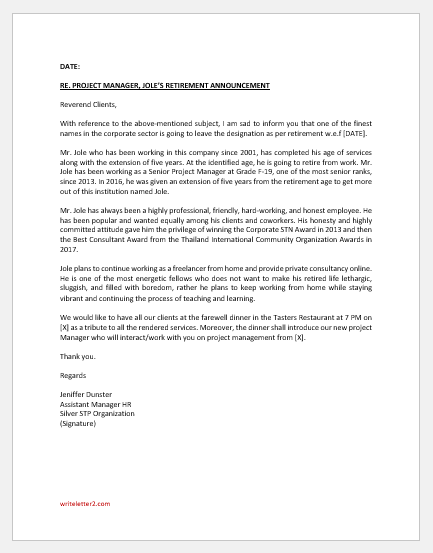 Size: 22 KB Word .doc File 2003 & later
Download