Letter to Confirm Travel Arrangements
This confirmation letter is written in order to confirm the person's travel plans. The main purpose of writing the letter is to let the reader know that the arrangements for travel have been done and now he or she can travel without any confusion. The information in the letter should be brief and professional.
The most important aspect of the letter is that it should describe the whole arrangement of the travel. You can also include the instructions related to the travel in the letter. Apart from general details, some specific details can also be mentioned in the letter.
The letter should be ended on a positive note. The number of items that have been included while making the arrangements for the travel should also be written in the letter. The letter should contain all the details necessary to make the reader satisfied with the arrangements for the travel.
Letter -1
This letter has been written in order to confirm that plane and hotel arrangements for your trip have been made as per your conversation with us on the telephone yesterday. We have booked [sky ways airline number 34] which will leave at [4 pm]. Tickets are being sent to your email address.
We have also made reservations for you at [central hotel] for [two days]. The excellent airport shuttle service is also provided by the hotel however, you can also rent a car. Please contact me if you want me to make further arrangements for you to make your trip enjoyable and pleasant.
Letter -2
It was discussed during our conversation, that we have made hotel and flight arrangements for your trip to Germany. Enclosed herewith are six tickets for Aeroflot airlines, flight number 456. It will leave New York at 4:00 on Saturday, September 26, 2021. The said flight is expected to arrive at Luxemburg Airport at 12:00 p.m. Mr. Henry, dressed in blue, will meet you at the airport. He will be wearing his nametag for your convenience.
Moreover, we have also booked three rooms in Bloomfield Hotel, Luxemburg for six people as you requested. You will be charged US$100 per room for one night's stay. You will be served juices, tea, or coffee at 10:00 a.m. For lunch and dinner, you will have to pay the extra charges. A parking facility will be available at the hotel garage at no extra charge.
I hope you will be more than satisfied with our travel arrangements. We are looking forward to serving you in the future also.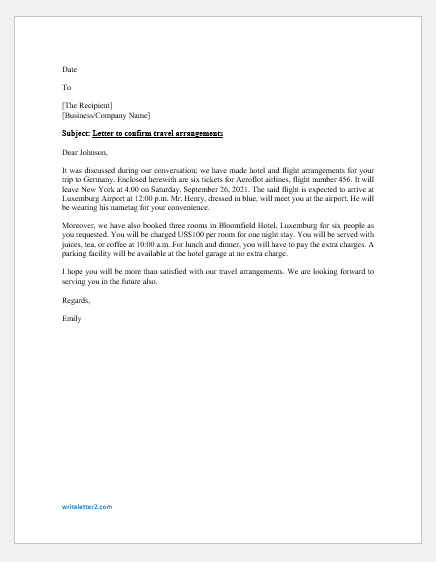 Download
---
3-
As discussed during our telephone conversation, I am writing you to confirm that my flight will arrive at Michigan airport on September 26m 2033 at 10:00 a.m. I hope that all the requested arrangements will have been made as per my requirements. For this, I would like to thank you in anticipation of providing me with accommodation for my entire trip.
Since I will be new to your country, it is expected that your company representative will meet me at the airport to receive me. Please let me know his mobile number so that I would call him/her as soon as I reach the airport.
I hereby confirm that I am agreeing to stay in room number 100 of the company's guesthouse for the entire duration of my trip. I will be carrying some light luggage and hand baggage with me. I have also sent you my presentation slides in your provided email. Please acknowledge and confirm whether my data has been received by your office.
I am hopeful that my trip will be peaceful, and I will enjoy working with you on this project. In case of any change in travel arrangements, please let me know on my cell number.
Thanking you in anticipation.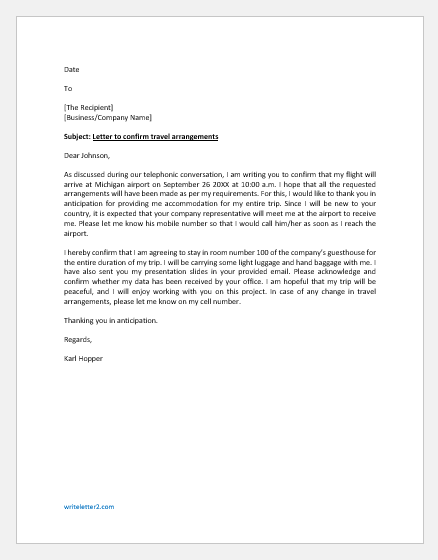 Size: 21 KB Word .doc File 2003 & later
Download