Letter to Confirm Travel Arrangements
This confirmation letter is written in order to confirm the person's travel plans. The main purpose of writing the letter is to let the reader know that the arrangements for travels have been done and now he or she can travel without any confusion. The information in the letter should be brief and professional. The most important aspect of the letter is that it should describe the whole arrangement of the travel. You can also include the instructions related to the travel in the letter. Apart from general details, some specific details can also be mentioned in the letter. The letter should be ended on the positive note. The number of items that have been included while making the arrangements for the travels should also be written in the letter. The letter should contain all the details necessary to make the reader satisfied about the arrangements for the travel.
Letter to Confirm Travel Arrangements [have been done]
[Your Name]
[Address]
[Letter Date]
[Recipients Name]
[Address]
[Subject: Subject of Letter] -Optional-
Dear [Recipient's Name],
This letter has been written in order to confirm that plane and hotel arrangements for your trip have been made as per your conversation with us on the telephone yesterday. We have booked [sky ways airline numbers 34] which will leave at [4 pm]. Tickets are being sent to your email address.
We have also made reservations for you at [central hotel] for [two days]. The excellent airport shuttle service is also provided by the hotel however, you can also rent a car. Please contact me if you want me to make further arrangements for you to make your trip enjoyable and pleasant.
[Your Name]
[Senders Title] -Optional-
Download Details: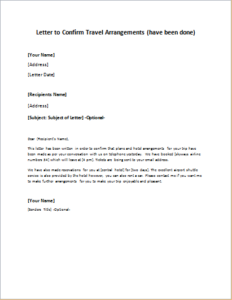 Letter to Confirm Travel Arrangements [have been done]

Size: 30 KB Word .doc File 2003 & later
Download
Size: 201 KB PDF File
Download
[personal use only: Not for Resale & Distribution]