Letter Announcing an Employee's Retirement
Businesses have to say goodbye to their employees at some point when their term of work is completed or they reach the time of retirement. Since employees who retire have been serving businesses for long, this is a very important time to recognize their services to the fullest before they leave.
Usually, an announcement letter contains not only the announcement of an employee's retirement but also a brief note of compliment for him. Most businesses arrange a farewell party to honor the retiring employee. If such an event is planned, it is usually mentioned in the retirement announcement letter. These are business norms and they should be practiced in order to make the business place a professional sphere.
Letter -1
Jarrod Bean will be retiring from [Company Name] on October 31. Mr. Bean has been with the company for twenty-six years, currently serving as manager of the Quality Control Unit in the Manufacturing department.
"It is with regret, and appreciation, that we salute Mr. Bean's long years of service to the company," said Lauren Jamison, president of [Company Name]. "He is one of the pillars upon which [Company Name] was built, and he will not easily be replaced."
Mr. Jamison is a former president of the [Company Name], the national trade group for the industry. He has also served on the Board of Trustees of the Lumbertown Boys and Girls Club and is an active participant in many other community organizations.
Letter -2
This letter is to inform you about the retirement of Mr. [enter name]. We are sadly saying goodbye to him after a long service. He has been working with us since [enter period]. The devotion and hard work which he showed throughout these years are rare to find. Many of our successes were a result of his efforts. It would not be wrong to say that Mr.[enter name] has a major part in taking our company to this level. We are and will always remain indebted to him for his services.
A farewell party has been planned so that we can extend our courteous gratitudes to Mr. [enter name]. All employees are requested to join it as [enter date] will be his last day at the office. Thank you!
Download Details: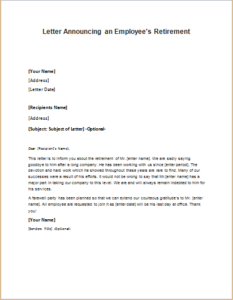 Letter Announcing an Employee's Retirement 
Size: 26 KB Word .doc File 2003 & later
Download
Size: 272 KB PDF File
Download
[personal use only: Not for Resale & Distribution]