Follow up Letter to Surgical Staff Nurse Position
There are quite a great number of people that apply for a job in some department of their interest but, after the process of recruitment, only a few get to succeed. When someone gets done with their interview he/she must write a follow-up letter. In this way, you will become prominent among other applicants and your chances to get the job will increase considerably. In addition, a follow-up letter can also be used for the purpose of adding up something to your information that they already have. Following is a sample of such kind of follow up letters.
Follow up after job interview
Thank you for coming in for an interview for the open position of [POSITION] at [Company Name].
On behalf of the search committee, I wanted to advise you that we will begin a final review of all applications for the job on May 1. We may make a job offer that week or invite one or more finalists back for another interview.
Again, thank you for your interest.
Letter
Dear [Recipient's Name],
My name is [applicant's name] and I'm a graduate of [institution's name]. I am glad that I had the opportunity to meet your company last week regarding the surgical staff nurse position that you have available in your hospital.
It was a pleasure to be interviewed by your highly respectable head of the doctors and I must say your staff is very cooperative and efficient.
It would be an honor for me to work with such a great organization among such professional people. I assure you that I will work with passion and I will never give you any chance to complain. I will try my best to promote the repute and excellence of your organization. A reference letter from my previous work organization has been attached to this letter. I hope to hear soon from you. Thank you very much.
Yours Sincerely,
[Your  Name]
[Senders Title] -Optional-
Download Details: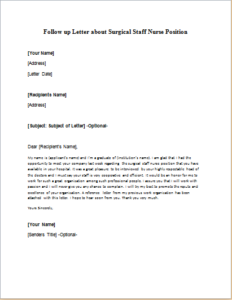 Follow-up Letter to Surgical Staff Nurse Position
Size: 25 KB Word .doc File 2003 & later
Download
Size: 256 KB PDF File
Download
[personal use only: Not for Resale & Distribution]