Apology Letter for Flaking Out
We all make plans with our dear ones. Sometimes we just make plans for the sake of making plans and not going because we do not feel like going. Sometimes we make plans and we have to cancel those plans due to some genuine reasons. Whatever the situation might be, an apology for flaking out a plan is a good way to make up with your friends.
Making a sincere apology is the first step. If you will cancel the plan way ahead of time or if you ditch the plan at the last moment, it is very smart to apologize as soon as possible. Your friend/colleague has been spending a time to plan that event with you and he/she deserves as an apology for the time wasted on planning. Make sure to mention the true reason for flaking with the plan. Writing false reasons can further deteriorate the situation as if your friend finds out that you have been lying, it can damage your repute and break ties with your friends as well. Do not forget to mention any remedy in the letter like making a new plan or rescheduling the old one.
Apology Letter for Flaking Out
Dear [Name],
I am very sorry for flaking with our plan of spending a day out for hiking in the mountains. I should have honored my commitment which I failed to do as my niece had a terrible asthma attack and I had not only have to take her to the doctor but also spend some time with her. I am not a very negligent person but even then I know I would have caused you and other friends a lot of trouble by not showing up.
I know I had to arrange all the trekking material as I promised initially. I had made all the arrangements for hiking and we can reschedule our plan for some other day whenever you have time.
I promise to keep your trust next time and forever. Please accept my apologies and believe me I will not maintain this negligent behavior any further.
Sincerely,
[Your Name]
Download Details: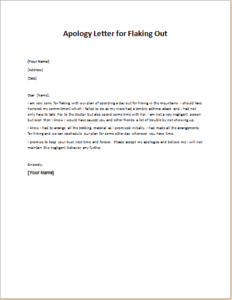 Apology Letter for Flaking Out
Size: 25 KB Word .doc File 2003 & later
Download
Size: 187 KB PDF File
Download
[personal use only: Not for Resale & Distribution]