Letter to Ask Correction of a Document Error
Errors and faults can appear in important documents that are either related to businesses, are issued for the common public by authorities, and are legal or of any other type. When such errors are observed, they should be corrected promptly. In the cases where a person cannot correct the errors by himself, for example, the documents that are issued by the government or other authorities' i.e. driving license, birth certificate etc., a letter can be written to the relevant authorities to correct the error in those documents. It is important to write clear details in such letters so that it could be made easy for the authorities to track the documents of the person for correction.
Letter to Ask Correction of a Document Error
[Your Name]
[Address]
[Letter Date]
[Recipient's Name]
[Address]
[Subject: Subject of Letter] -Optional-
Dear [Recipient's name]
I'm writing to you to request a correction in the birth certificate of my daughter. She was born on 20th August this year. I had applied for the certificate right after two days of her birth. Today her birth certificate was issued. Although it was issued quite quickly, there is an error that I want you to correct. As per the information that I had provided, the date of birth was 20th August like I just told you, however, on this document the date is mentioned wrong since it is written 2nd August here. I want you to correct this error. For your ease, I am enclosing the issued birth certificate. Looking forward to hearing from you with the prompt rectification of the error.
Sincerely,
[Your Name]
[Your Title] -Optional-
Download Details: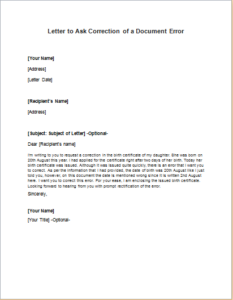 Letter to Ask Correction of a Document Error
Size: 27 KB Word .doc File 2003 & later
Download
Size: 161 KB PDF File
Download
[personal use only: Not for Resale & Distribution]