Letter to Cancel an Appointment to gather more Information
1.
I [name] had booked an appointment with you for [date] at [time]. I had gone to Dr. [name] with a complaint of frequent headaches. He recommended monitoring my Blood Pressure. I monitored it for one month but it was never more than 120 mmHg systolic or less than 70 mmHg diastolic. So he recommended that I get some blood tests done namely, CBC, LFTs, RFTs, and thyroid tests. He also recommended a CT scan. He recommended that when I get my test results, I should see you. I took an appointment considering that I was supposed to get my test results by [date].
I am writing to cancel the appointment because the reports are not ready yet so I haven't been able to gather the test results for you to evaluate. I am sorry for the inconvenience it would cause you but I had no idea that it could take longer than this. I would contact your Personal assistant as soon as all the reports are with me.
2.
I [name] booked an appointment for [date] at [time] with you because we wanted to hire you as an architect. We have seen and admired your work for a long time and it was always our intention to have you design our home. We wanted to build a house in my [number] yards plot in [location]. However, after getting an appointment with you some issues have come to our knowledge which is making us rethink our decision about making our house in this location.
We have learned through reliable sources that the housing society intends to build a school at the end of our street. The resulting traffic and noise are something we are not willing to put up with, as we are a retired couple and are looking for a very peaceful and quiet area for our retirement home. Our second concern is the security of the area as we have learned that there has been a spat of robberies in this area in the last six months.
Both these factors have made us pause our plans for now. We want to verify these facts. Before we move ahead with the plans. As soon as we have all the relevant information and we have made the decision whether to go ahead with the construction of our home, we would get in touch with you.
We are sorry for the inconvenience we have put you through. Looking forward to your understanding and any input you might have on the issue.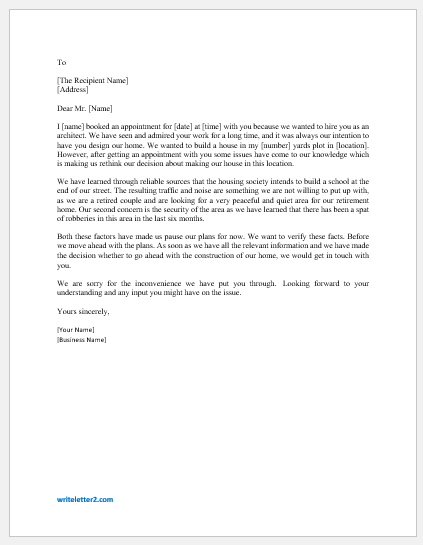 You may need to get your appointment canceled because you want to gather more information to present in the meeting. While writing the letter of cancellation, it would be better if you give the reason for cancellation. It should be kept in mind that the next date on which you want to keep the appointment should be mentioned in the letter. Not only date but time and place should also be mentioned so that the reader can clearly understand. It is also good to apologize in the letter for canceling the appointment.
It is also important to mention in the letter that how much time you will take to gather the information so that you can reappear for the meeting. If you are sure about the date on which you will be available then do mention it in the letter. This will make your letter more courteous and professional.
3.
I am required to inform you that I want to cancel the appointment which was to be held on [mention the date and time]. The reason for which I thought to cancel the appointment was that I was unable to gather the appropriate amount of information for the discussion which we had to make in the meeting. I need [two more weeks] to be able to discuss the matter. I am working with some more people to get the job done quickly and will contact you as soon as I will gather all the information about the matter. Wish you the best of luck.