Letter to Cancel an Appointment to gather more Information
You may need to get your appointment canceled because you want to gather more information to present in the meeting. While writing the letter of cancellation, it would be better if you give the reason of cancellation. It should be kept in mind that the next date on which you want to keep the appointment should be mentioned in the letter. Not only date, but time and place should also be mentioned so that the reader can clearly understand. It is also good to apologize in the letter for canceling the appointment.
It is also important to mention in the letter that how much time you will take to gather the information so that you can reappear for the meeting. If you are sure about the date on which you will be available then do mention it in the letter. This will make your letter more courteous and professional.
Letter to Cancel an Appointment to gather more Information
Dear [Recipient's Name],
I am required to inform you that I want to cancel the appointment which was to be held on [mention the date and time]. The reason for which I thought to cancel the appointment was that I was unable to gather the appropriate amount of information for the discussion which we had to make in the meeting. I need [two more weeks] in order to be able to discuss the matter. I am working with some more people to get the job done quickly and will contact you as soon as I will gather all the information about the matter. Wish you best of luck.
[Your Name]
[Senders Title] -Optional-
Download Details: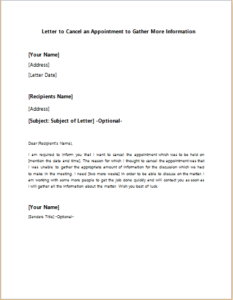 Letter to Cancel an Appointment to gather more Information
Size: 25 KB Word .doc File 2003 & later
Download
Size: 248 KB PDF File
Download
[personal use only: Not for Resale & Distribution]