Letter to Thank the People who help in Fundraising
For certain causes, individuals cannot afford to fund alone on their own. They need the help of others to assist them in those causes. For such purposes, funds are raised. Funds are not to be returned as they're a volunteer giving. It comes in the moral duty to support for causes that are for public welfare, for example, helping the refugees, supporting the underprivileged etc. and it comes under the social duty to assist in cases where there is a need for mutual collaboration.
To fulfill the tasks, funding is required but even to raise funds, assistance is needed. People who assist you in fundraising owe you thanks either it is by referring people to you or by helping you in any other form. If you're a person who works on projects for which funds are required off and on, you should especially bring in practice these norms of appreciating and thanking the efforts of people who support you since by this they would get encouragement to work for you in future.
Letter to Thank the People who help in Fundraising
[Your Name]
[Address]
[Letter Date]
[Recipients Name]
[Address]
[Subject: Subject of Letter] -Optional-
Dear [Recipient's Name],
I am so grateful to you for your help in fundraising. The work on the project of [enter details] has started and it is due to your efforts that we could make it possible. Thank you very much for your funds and all those referrals for funds that you made. We're indebted to you for this. With our humble recognition of your support, we request you to continue assisting us in future as the projects that we are working on will benefit a large population. Thank you again!
Sincerely,
[Your Name]
[Senders Title] -Optional-
Download Details: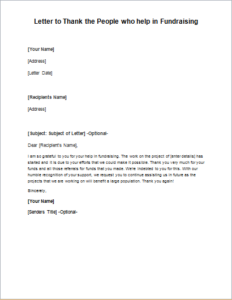 Letter to Thank the People who help in Fundraising
Size: 25 KB Word .doc File 2003 & later
Download
Size: 170 KB PDF File
Download
[personal use only: Not for Resale & Distribution]