Letter to Thank People who help in Fundraising
For certain cases, individuals cannot afford to fund alone on their own. They need the help of others to assist them in those causes. For such purposes, funds are raised. Funds are not to be returned as they're volunteer giving. It comes in the moral duty to support for causes that are for public welfare, for example, helping the refugees, supporting the underprivileged, etc. and it comes under the social duty to assist in cases where there is a need for mutual collaboration.
To fulfill the tasks, funding is required but even to raise funds, assistance is needed. People who assist you in fundraising owe you thanks whether it is by referring people to you or by helping you in any other form. If you're a person who works on projects for which funds are required off and on, you should especially bring into practice these norms of appreciating and thanking the efforts of people who support you since by this they would get encouragement to work for you in the future.
1-
We from [name] foundation want to thank all of you who helped us in raising the funds for the poor and unfortunate people of [X]. Over 200,000 families had to migrate due to the latest crisis. As the temperatures drop, the lives of these families have become more difficult. Apart from food and medicines, they now require blankets and warm clothes too.
We are grateful for your efforts to raise funds for this purpose. Our aim was to raise [amount] till [date]. It is only due to your efforts that we have been able to reach our goal. With your generous backing, [organization name] has so far distributed aid worth [amount] to the people of [X]. This includes foodstuff, warm garments, blankets, and medications for main hospitals. We are also trying to contribute towards the education of displaced children.
We still have a long way to go before these unfortunate people can have some respite but if we all work together, we can do much good, and as Buddha said, 'If you light a lamp for somebody, it will also brighten your path.' Never underestimate your contribution, whether it is big or small it has made a difference in someone's life and we are grateful for that.
Looking forward to your continued support and help.
2-
As winters were approaching, we at [organization name] requested everyone to help us raise funds to arrange warm clothing and blankets for the unfortunate people who can't afford these winter essentials. The temperatures were expected to drop below Zero and the homeless people were unlikely to survive such a cold wave without shelter and help.
We are extremely grateful to all of you who came forward and helped us in collecting funds and donated clothes, sweaters, jackets, and blankets. Thanks to your help we have been able to distribute more than [number] of blankets and [number] sleeping bags. Warm clothing was distributed to [number] people including women and children. If you contributed in any way, please accept our gratitude and trust us your contribution made a difference and probably saved a life.
Above all, we would like to thank Mr. [name] from [company name], who not only donated generously to this worthy cause but also offered their company's warehouse located at [location] to be used as night shelters for the homeless and needy. In these shelters, the poor people were provided with basic necessities such as meals three times a day, medicines, clothes, and blankets. This act of kindness and generosity helped [number] people on average, who otherwise would have ended up on the streets in the extreme cold, without any facilities.  
When people come together they can do a lot of good. The less fortunate among us deserve our sympathy and support. Looking forward to your continued help and empathy in this regard.
3-
I am grateful to you for your help in fundraising. The work on the project of [enter details] has started and it is due to your efforts that we could make it possible. Thank you very much for your funds and all those referrals for funds that you made. We're indebted to you for this. With our humble recognition of your support, we request you to continue assisting us in the future as the projects that we are working on will benefit a large population. Thank you again!
Download Details: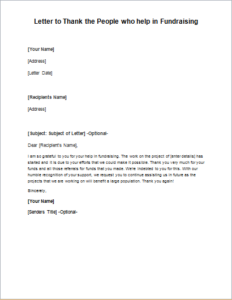 Letter to Thank the People who help in Fundraising
Size: 25 KB Word .doc File 2003 & later
Download
Size: 170 KB PDF File
Download