Invitation Letter to a Book Fair
Reading is one of the best habits or hobbies anyone can have. It not only broadens your perspective about a lot of different things but also helps you to better understand a different point of views. Unfortunately, in today's time where everything is available online, this trend of reading books is slowly dying down. To revive the love of reading, many reading and books societies come together and arrange book fairs. This encourages people to come together and celebrate the writers and the long tradition of telling stories. The invitation letter for a book fair must be accompanied by all the relevant information in the form of broachers and flyers. This will increase the interest of the participants or the attendees. The invitation must not be a simple message, in fact, it should be written in a way that it generates interest of the reader. The goal of the writer is to make the reader accept the invitation and attend the function.
Invitation Letter to a Book Fair
The Readers Association
John Allen
Block 4E, Highland Avenue, California
7TH October, 2016.
Ms. Celia D'Souza
Dear [Recipient's Name],
I hope my letter finds you in the best of your health and spirits. I am extremely excited and overjoyed to tell you that the readers association is holding a book fair next week. We are proud to share with you that a lot of famous authors are on board with us and will be joining our book fair. They will also sign their own books for the people attending the fair. We request your company to join us for the book fair. We will be honored to have you with us. The timings schedule is enclosed. Please see the broachers enclosed for more information about the venue, our sponsors, and the other participants. We will also have a question and answer session with our celebrity guests towards the end of our event. For further queries feel free to contact [Enter Name etc.].
Looking forward to you esteemed company. Kindly let us know about your willingness or regrets to join us for the book fair.
Sincerely,
John Allen
Managing Director, The Readers Association
Download Details: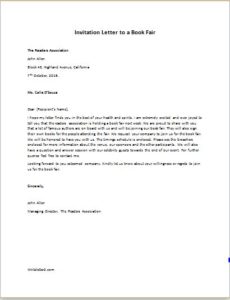 Invitation Letter to a Book Fair

Size: 33 KB Word .doc File 2003 & later
Download
Size: 324 KB PDF File
Download
[personal use only: Not for Resale & Distribution]