HR Department's Letter to Employee about Poor Performance
Every company has chalked out a set of rules and regulations for their employees; it includes the basic code and conduct, ethics, expectations from the employees and a course of action to be adopted if an employee(s) fail to meet these standards. Simply these predefined rules are known as Standard Operating Procedures. They are vetted from the highest authority of the company i.e. CEO and the HR department plays an important role in drafting as well as the execution of these policies.
It comes in the purview of the HR department's responsibility to elucidate these expectations required from an employee while finalizing their hiring process. The department, as a company policy, also forewarns all the employees that the company reserves an untenable right to give notice to any employee if (s)he fails to meet these standards. Such a letter serves as a warning notice to an employee asking them to improve their performance behavior.
Letter of Poor Performance 
Whenever an employee fails to meet the predefined standards, a meeting is called in which the employee is warned verbally. The employee's performance is then observed and assessed for a particular timeframe. If the employee fails to achieve the set standards again, only then a letter of performance is issued.
A letter of poor performance, simply, is a formal letter and must be written only when a particular employee who has been working with the company has failed to achieve the required standards of the company and that (s)he has fallen short of that yardstick which was laid down by the company and to which the employee had agreed before signing the contract. A generalized template of such a letter will include the following details: –
The date the letter is drafted.
Employee's name, appointment, department.
Employee's contact address and email id.
Content of the letter giving details about the employee's poor performance.
Timeframe allotted to the employee to show the authorities his / her interest in the continuation of the job.
Person's name drafting the letter, appointment, department.
Cc address, if any.
Letter Template
A sample template of an HR letter issued to an employee on poor performance is attached below.
[Date the letter is drafted]
[Employee's name, appointment, department]
Subject: Issuance of Warning Letter on Poor Performance
Reference: A meeting held on [mention date and venue] regarding the subject.
[Salutations]
I am disappointed to say that we had to have a formal meeting as mentioned in the reference above to warn you about your [poor performance, conduct]. It was mentioned to you that you need to meet a pre-defined set of standards failing which you will be warned formally with a warning letter. This letter serves as your first warning. Once again you have fallen short of the desired standards expected out of you [list the shortcomings and concerns].
It is pertinent to mention here that we will be assigning an employee [mention name and appointment] to observe you with regards to your performance and you will be working under his/her supervision for [mention time span]. It is of great importance that you put in your best efforts to meet the required standards. The said employee will submit a written report of your performance which will be discussed in a meeting [mention date] in your presence.
I know being a valuable member of this company, you will pay heed to this letter and take this matter seriously.
I wish you the very best of luck and look forward to seeing you at the next meet.
[Person drafting the letter]
[Appointment, department]
Cc: CEO, [Company's name]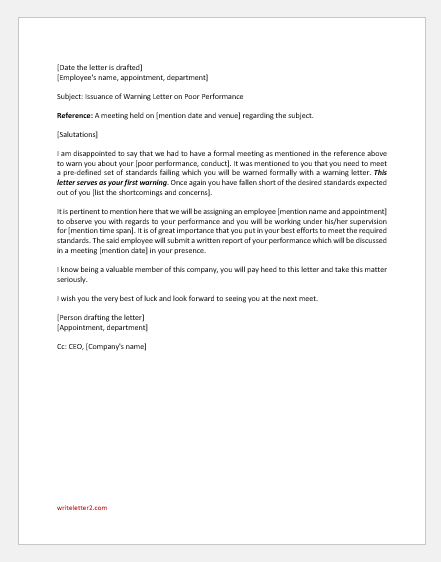 Size: 21 KB Word .doc File 2003 & later
Download
---