Apology Letter for Prank
We all are very fond of playing pranks with our friends, colleagues, and relatives. But sometimes, our pranks can go the other way round and rather than creating humor, they can become a cause to hurt people. Such an apology should show how much we regret the prank we have done. By writing an apology letter, we try to show people that we care for them and our actions were unintentional. Our apology letter should include a statement that shows how much we regret. Secondly, we should take complete responsibility for our actions. And finally, a remedy to the situation is very important.
Forget the fact whoever was right or wrong, the apology should state that the other person's feelings have been hurt. Accepting complete responsibility is very important; never blame the other person for your actions in the apology. Do not justify your actions.
Apology Letter for Prank
[Letter Date]
Dear [Recipient Name],
The other day I and my friends were watching this funny movie where we got an idea for doing this prank. You were not with us, so we decided to play this prank with you. We did not realize how much this could have hurt you.
I am sorry to hurt you. I have lost many friends due to my immature behavior. You have been a wonderful friend and it will hurt me further if our friendship dies for such a small reason.
I know saying a sorry will not fix things, but I can make sure that it will never happen again. You have been on my mind since days and I want to make myself feel better by apologizing to you. I know you do not deserve to be hurt the way I did, but it was just to create a funny moment in our life.
I am looking forward to hearing from you soon. I would want to meet you personally so that I can explain myself and you also get a chance to take your grievances out.
Love
[Your Name]
Download Details: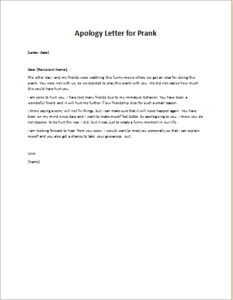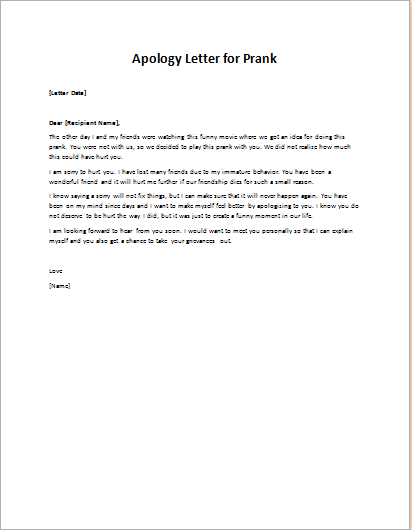 Apology Letter for Prank
Size: 24 KB Word .doc File 2003 & later
Download
Size: 189 KB PDF File
Download
[personal use only: Not for Resale & Distribution]