Letter to Encourage Supervisor after a Company Setback
All leading organizations and companies do not establish at one day. There are always strenuous efforts of the team to keep them on the right track and stand still against any wind. So, supervisors and employees are always ready for any kind of situation that can happen. Some disasters are natural, which cannot be stopped with manpower and technologies.
Other kinds of losses are those which can be compensated with the workforce and different technologies. When a company is formed; certain policies and guidelines adhere. Companies always have a backup of various kinds regarding any kind of loss or setback. In some way or the other, a setback is sometimes produced in the sense that if we face the challenge and focus on its basics.
Once we suffer from a setback, the first and foremost thing we need is to be very calm and optimistic. Losses can occur in both personal and professional life as this is a natural phenomenon. But to face them with courage and well-being is strongly encouraged. This, as the result, brings new opportunities and intuitions.
1-
I am writing this letter to assure you that although we are going through a rough patch, it will be over soon. No one could have predicted this setback, as our products go through a long series of testing and feedback before entering the market. It is just hard luck that R&D could not spot that people with [name] would have such severe reactions to our new [name] moisturizer.
While I realize that the bad press and the ruthless reviews on social media are very disheartening but with time, the dust will settle and we would emerge from this scandal. Keep your spirits up and keep motivating and reassuring your team as they must be getting affected by all this too.
The company recognizes the hard work all of you put in and fully realizes the impact such negative publicity can have on the employees but rest assured businesses go through rough patches but if they stand together and keep working towards their goals instead of losing hope, they get through these incidents and come out stronger.
Our PR agency is currently working full time for damage control and we are hopeful that this issue would be behind us in no time. The important thing is to learn from one's mistakes so as not to repeat them.
Looking forward to better times ahead.
2-
I am writing this letter to acknowledge all the hard work you had put in organizing the winter festival celebrating the company's twelfth anniversary. No one knew that due to the pandemic, the government would impose a lockdown, and all the hard work and expenses are undertaken to make this a memorable occasion would go to waste.
These are difficult times and all the businesses are suffering due to frequent lockdowns and the difficulty in the transportation of finished goods and raw materials. But these inconveniences are impossible to avoid, considering the nature of the pandemic. We want you to stay motivated and do not let this get you down. The company appreciates your hard work and this minor setback should not affect your drive.
Keep up the good work!!
3-
Synchrony Tech Ltd.
Doyle Hopkins
26 St. Diamond Avenue, California.
[Date]
Mr. Andrew Lisa
Supervisor, Stanford Yields.
43 St, Rose Avenue, Oregon.
Dear [Recipients Name],
Hope you will be fine. After hearing the news of your company setback, I felt to write some words of condolence. You are very skillful and a capable supervisor, as I personally know you. I must say that hard times come, but being optimistic and calm solves more than half of the problem.
You are the most challenging person in your company and you gave a lot because of your creativity. Your better working relations with employees will be very helpful and cooperative with you in this critical situation. Your company's previous annual reports were always good.
Please don't lose hope. Such kinds of problems keep on coming but the need is to bring productivity out of them. Give yourself time and eliminate blaming and raise your spirits and be committed.
Wish you the very best in this critical situation.
Sincerely,
Doyle Hopkins
Assistant Manager, Synchrony Tech Ltd.
Download Details: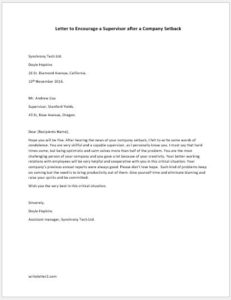 Size: 33 KB
Pdf: