Payment Clearance Letter
A payment clearance letter can be written in two possible ways. The first one can be written when an employee requests his supervisors to grant him a payment clearance letter, in which his dues are cleared according to his working hours. In order to do so, he must first write a resignation letter justifying his departure. So, in the transition period, he can easily work on his clearance procedures.
Another payment clearance letter is written in response to the previous one. The supervisors write this letter to respond to the request of the former employee, stating that his previous dues are cleared, and his resignation is approved. He can without pressure, leave the company by returning the possible office equipment and completing the unfinished procedures.
Letter 1:
Dear Supervisor,
I am writing this letter as a formal request for payment clearance of my dues as I am resigning from my post as an [employee's designation] on date: [resignation date]. For evidence purposes, I have attached a copy of my resignation letter which justifies the due date and reasons for my departure.
For me to continue my new job, the authorities require a clearance letter so any chance of misconception can be eliminated. The letter must contain the evidence that my dues for this month on which I have served, are cleared. They need proof of bank transactions on which the amount is transferred.
I am working on the rest of my clearance procedures and filling the forms so they can be attested on time. I have cleared my work documents and now I am waiting for my dues to get cleared. I will be highly grateful if you will grant my request on an urgent basis, as my resignation date is approaching in a few days.
Thank you for the cooperation.
Sincerely.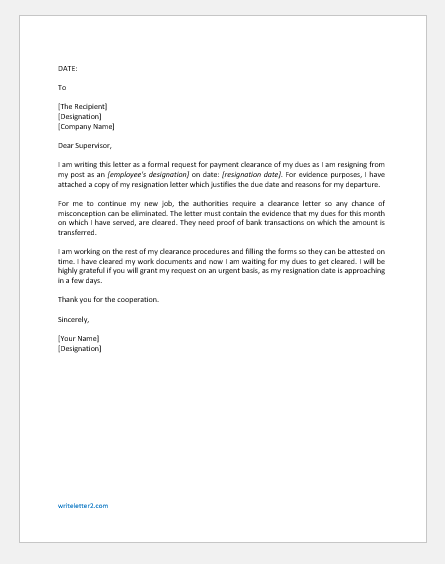 Size: 18 KB Word .doc File 2003 & later
Download
---
Letter 2:
To whom it may concern,
This letter is intended to inform you about the clearance update of Mr. [Employee Name] regarding his resignation from this company [Company name] on date: [Resignation date]. 
The tenure of our former employee in this company served a great pleasure to our team members. He has been working with proficiency and decency in all these years. However, upon his request for the payment clearance letter, the Human Resource Department is in process with all the clearance procedures.
The payment dues of Mr. [Name] are cleared for the days he has served before resigning. He was paid [payment amount] per month as a [employee designation] from our company. As per his departure, he is paid according to the number of days served before the resignation date. We have provided the payment through bank transaction in the account number [employee account number] of bank [bank name].
We hereby wish all the best to our former employee for his new journey ahead. Please be waited for the rest of the procedures regarding the clearance forms and keep in touch with the HR team. For any query, feel free to contact me at [contact information].
Yours Sincerely,
[XYZ]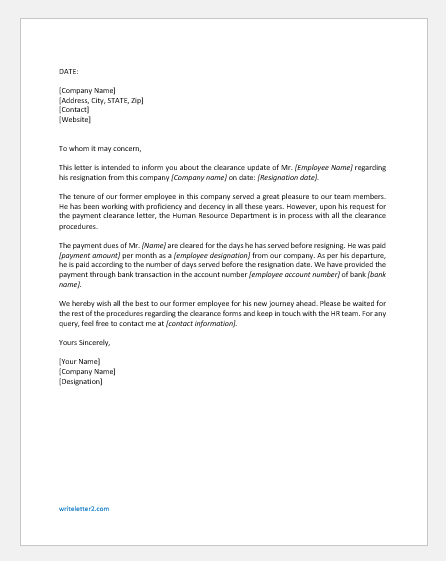 Size: 21 KB Word .doc File 2003 & later
Download