Apology Letter to Roommate for Cleaning
Living with a roommate can be an exciting experience. During college/university years, away from home can be hard but having a nice roommate can make things easier. Most of the people going to universities have a hard routine which can make it challenging for them to look after their regular chores. Dividing chores can make it easy to manage for the roommates. But sometimes, even after dividing the work, a roommate can be negligent towards his duties.
In such an event, when you forgot to do the dishes or clean the room, the best way is to apologize by writing a letter. Keeping harmony and peace among roommates is very important as it is the place you are spending time after work or study. Writing a polite apology letter for not cleaning the room will leave a lasting impact on your roommate. He/she will understand that you might be having a hard schedule and cleaning the room got off your mind. State the reasons that what made it happen. Try to come up with a solution and make up for it as soon as possible. Next time when your roommate encounters the same situation, they will be in a better position to understand what you were going through.
Apology Letter to Roommate for Cleaning
Dear [Roommate],
It has been a couple of days since I got a chance to sit with you and have a chat. My final exams are just around the corner and so the routine has become really hectic. I have been attending extra lectures almost every day. The burden of assignments is really giving me a headache. I have been coming back late and going university early every day. Due to which we haven't really seen each other.
I know that it was my turn to clean up the room this week. I am very embarrassed to say that I forgot to do so. My routine has been so hectic that it completely got off my mind.  It has been very kind of you to clean up the room, even though it wasn't your turn.
I will be freer just after this week. So, I have decided to take up the responsibility of cleaning the room properly and make up for my last turn as well. I will make sure I do not forget my turn next time so you do not get a chance to come up with a complaint against me. Thanks for understanding.
Sincerely
[Your Name]
Download Details: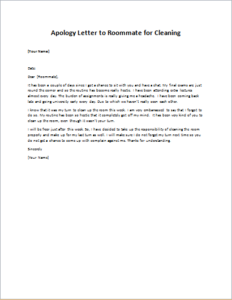 Apology Letter to Roommate for Cleaning
Size: 25 KB Word .doc File 2003 & later
Download
Size: 190 KB PDF File
Download
[personal use only: Not for Resale & Distribution]