Letter to Request for Permanent Position
In order to get a job of a permanent position, you have to write a letter to the head of the company requesting the transfer of temporary job position to the permanent position. You have to prove in the letter that you deserve a permanent position in the company on the basis of your qualification or experience. You can prove it by writing all your achievements during your job when you were at the temporary position. Give your personal details such as your qualification, past experience, and skills level. Also, tell your position on which you have been working in the company. Tell what you have learned throughout your career. Since the letter is the requesting letter, the tone of the letter should be positive and gracious. Also, state that you are thankful for being given the job on the temporary position in the company and will be more thankful for the permanent position.
Letter to Request for Permanent Position
Dear [Recipient's Name],
I was hired as sales manager in the company for the temporary job in November 2015. I had a great experience of working in your company. There was a huge impact on the sales of the company when I joined it. I worked hard day and night for boosting the sales of the company. Therefore, I believe that I should be given an opportunity to serve the company permanently. I assure that I will never disappoint the company management in respect to my responsibilities.
I am now interested in working for the same job position on the permanent basis. I want you to have a look at my resume and consideration.
Sincerely,
[Your Name]
[Senders Title] –Optional-
Download Details: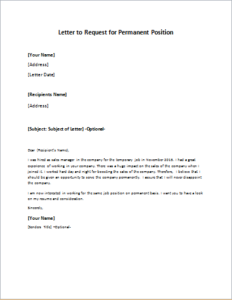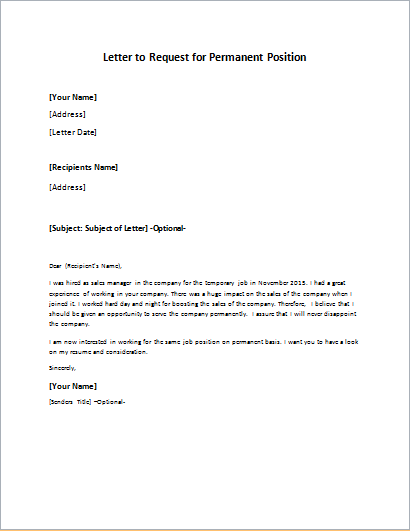 Letter to Request for Permanent Position

Size: 25 KB Word .doc File 2003 & later
Download
Size: 199 KB PDF File
Download
[personal use only: Not for Resale & Distribution]