Letter to Request for Permanent Position
In order to get a job in a permanent position, you have to write a letter to the head of the company requesting the transfer of a temporary job position to a permanent position. You have to prove in the letter that you deserve a permanent position in the company on the basis of your qualification or experience.
You can prove it by writing all your achievements during your job when you were in the temporary position. Give your personal details such as your qualification, past experience, and skills level.
Also, tell your position in which you have been working in the company. Write what you have learned throughout your career. Since the letter is the requesting letter, the tone of the letter should be positive and gracious. Also, state that you are thankful for being given the job in the temporary position in the company and will be more thankful for the permanent position.
Letter-1
I was hired as a sales manager in the company for a temporary job in November 2035. I had a great experience working in your company. There was a huge impact on the sales of the company when I joined it. I worked hard day and night for boosting the sales of the company.
Therefore, I believe that I should be given an opportunity to serve the company permanently. I assure you that I will never disappoint the company management with respect to my responsibilities.
I am now interested in working for the same job position on a permanent basis. I want you to have a look at my resume and consideration.
2-
As you know I have been working as a contract employee in your company for the last two years. I have been given a great opportunity to work with your company and now I am looking forward to continuing it for a longer period. I am writing you today because I am interested in the full-time position of marketing research officer which has recently been advertised on the company's website.
I personally request you to have a look over my performance during the contract period and promote me to a permanent position. I believe this is the right time because the position you advertised purely fits my qualification. You know very well that my marketing strategies helped the company to increase its revenue by 70 percent. Finally, we have been able to see our listing as the number one construction company.
Since the first day of my appointment, I have performed to my full potential and made the best use of my abilities. I know that I will have to undergo some standard procedures to secure a permanent position.
I express my willingness to go through that screening process either in the form of an interview or a screening test. I have learned a lot while staying here as a contract employee. I believe that the commitment I showed to achieving the company's goals would make me a suitable candidate.
I would appreciate it if you spared some time out of your busy schedule to consider my application. I am looking forward to getting a positive and timely response from you.
Thanking you in anticipation.
Download
---
3-
You know I have been a part of this company for more than five years. The time I spent here was full of new experiences and great learning opportunities. I was given opportunities to polish the skills that I needed to become an efficient worker. This is the right time when I am feeling that I need to become a permanent part of your company.
I believe that my performance was consistent throughout my job period and I performed at my best in the sales department where I was assigned a target to increase sales by fifty percent. I designed various unique campaigns that proved beneficial for the company.
Consequently, these strategies led to the highest ever increase in sales. The best campaign which I spearheaded was that of new-year sales last year. It acted as a primary catalyst towards achieving the highest ever sales target. Apart from my performance in the field, I have a spotless office record to my credit which will act as a testimony of my loyalty to this company.
Due to the above-mentioned facts, I hereby forward my request to offer me a permanent position in the marketing department. I would like to get all those benefits which the company offers to its permanent employees. I believe my performance has not been less than theirs.
I am comfortable that my tenure has given me a lot more opportunities to acquire knowledge about how a company works. In addition, I have polished my skills to become an effective leader. If you regularize my services, I have many ideas to share with you regarding the expansion of the company's sales.
I hope you will spare some time to review my humble request. I would appreciate the opportunity to sit and discuss with you this matter further. I am waiting for your positive response in this regard.
Thanking you in anticipation.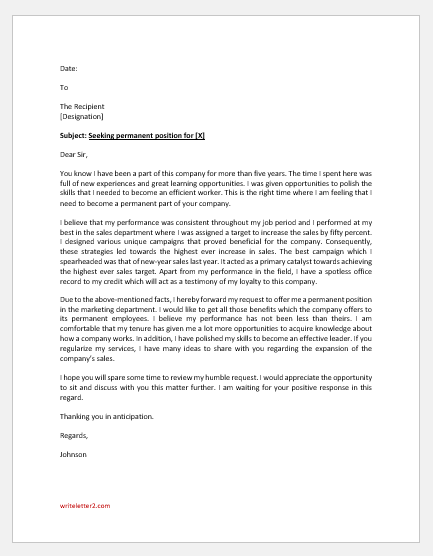 Download