Retirement Announcement Letter Template
#1
Re. Announcement of Catagory-A Retirement of Mrs. Emily Deia
Dear Employees, this letter has been written with the juxtaposition of two different emotions i.e., delightfulness and grief. We are equally glad and grieved to announce the retirement of Mrs. Emily Deia. Emily has been retired from work effective from [Date]. Emily is retired in category-A that is after the completion of a certain period in the office. The retirement of Emily is one of the biggest losses to the company's internal structure as she is the one who had organized the structure of the company in such a perfect pattern and doubled our payroll.
Emily has been working here in our company since 2005. In 2005 Emily joined our company as an Assistant Administrator. She was upgraded to the destination of Assistant Manager of the company for her management skills and perfect methodologies in various areas of working in 2007. Later, she was promoted to the rank of ST-10 as a General Manager in 2011.
Working as Assistant Manager, she had several additional charges as the vigilance of general finance in proposals of V-102. She has also worked in Human Resources in the replacement of Mr. Joe who was on study leave for three months. She has been an asset to the company and adroit in whatever she does. She is one of the most vibrant and energetic employees. She has the best communication skills and possesses high competency.
She is going to be retired on [DATE] on the policies of Catagory-A of the Company Retirement Plans. According to Catagory-A, an employee can be retired after completing fifteen years of working with certain benefits from the social welfare and private sector. According to this category, an employee can take retirement with certain benefits after completing fifteen years of working or more. Benefits would be given according to the Company Retirement Plan (category A) of the Federal Private Capacity Law of Retirement.
Having Emily is like having a canopy on the company as she is creative and innovative in her ideas along with high professional and problem-solving skills. We are looking forward to paying her honor by throwing a farewell party in the office on [DATE]. All of you are requested to present ideas for the farewell. Thank you.
Regards
Stephen Hall
Managing Director (MD)
SED Finance and Social Corporate
N-311, Sector C-12, Edward Ave
Boston, CA
USA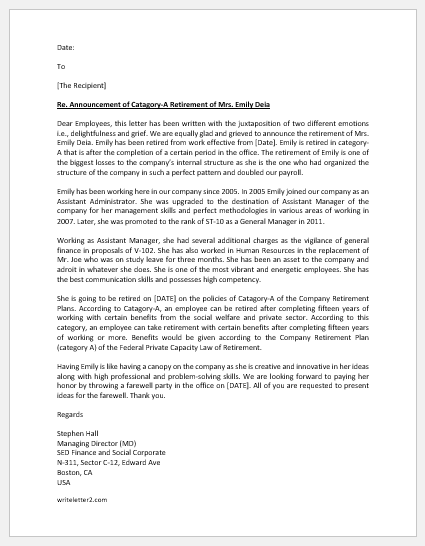 Size: 24 KB Word .doc File 2003 & later
Download
---
#2
Re. Permanent Retirement of Mr. Ross from the Designation of LMTC General Manager
Dear all,
I am delighted and saddened at once to inform you that Mr. Ross has been retired from the position of Local Mass Transit Control (LMTC) General Manager effective from [DATE]. Mr. Ross has served in the local government sector for 35 years of excellence and unmatched competency. I am saddened by the fact that his working career has come to an end even after extension.
Ross joined in grade 12 when he entered the LMTC Organization as an Assistant Controller in the Department of Management and ACV Transit. He was promoted to grade-14 after scrutinizing the Employment Review. He was, then, promoted to Senior Controller of LMTC. Later, in 2010, he was given the charge of Assistant Manager of LMTC. Then, he was promoted as General Manager of LMTC in the Management and Development Department.
Ross is one of the most hardworking and competent employees we ever have. Considering his honesty and proficiency, the board of governors extended the period of working to five years. These five years were marked with high-quality production of work and best of all projects. In these five years, the organization saw its sky-crapped image in the department of transport and local transit projects. His working background shows his competency and highly committed professionalism. He was bestowed the award of the most professional employee by the parent organization of mass transit USA State Mass Transport in USA State Awards 2017.
[DATE] marks the date of his last day in the office. To honor him, we have arranged a party to farewell Mr. Ross and wish him the best for his future endeavors. This party shall include only employees as per the prescribed COVID SOPs. Thank you.
Regards
Richard Gale
Director
Local Mass Transit Control
San Francisco, CA
USA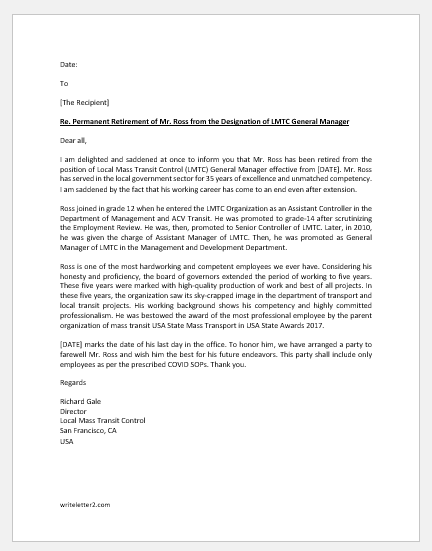 Size: 22 KB Word .doc File 2003 & later
Download