Resignation Letter due to Business Opportunity
1-
RE. RESIGNATION WITH IMMEDIATE EFFECT FOR BUSINESS ESTABLISHMENT
Dear Sir, I am writing this letter to formally notify the company about my resignation with immediate effect. I have been working here for seven years. In these seven years, I worked in this company in various significant positions with hard work and sheer honesty. I worked whole-heartedly and always remained sincere with my work and this company. I have been resilient to hard times, a quick learner, and quite focused on my work. I have also been handling profound projects related to audit and finance with different high-profile officials and companies.
My working time in this company gave me a lot of experience and enhance the margins of learning with every passing day. It was due to this profound learning and professional demeanor that I am able to establish my own business. My long-term dream of doing my own business has finally come true. I seek prayers and wishes for good fortune from you and all of my co-workers.
I extremely apologize for the immediacy of my resignation. I have started my own business in the restaurant. The project was anticipated to be done long ago but it was delayed because of the scarcity of time and management services. Now, I am going to look after my business by myself. New businesses demand a lot of energy and time with long hours of work, therefore, it will not be possible for me to continue my work here.
The business hours are not anticipated and there is a lot of work to be done. My business has just been approved by the DBA, California, thus, I would not be able to work from tomorrow. Please let me know if can assist in finding out a deserving one for this post as my replacement. I can also look for candidates externally on your instructions.
I am very thankful to you for your kindness. Please supply a release letter to HR and a clearance slip to the finance department so that I can get my salary for this month. Thank you.
Regards
Antonio Frankle
Assistant Media Marketing Manager (AMM)
Gale House of Media and Marketing Agency
F-999 FR Street, Douglas Rd, Boston
CA, USA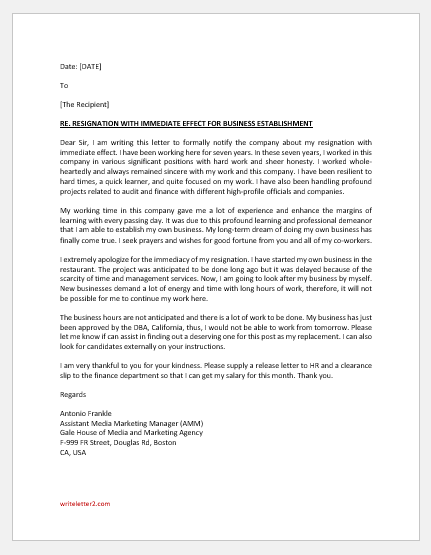 Size: 23 KB Word .doc File 2003 & later
Download
---
2-
RE. RESIGNATION FOR PERSONAL BUSINESS
Dear Ma'am,
I regret to inform you that I will not be able to continue my work here from 10-09-21 due to my engagement in my newly established business. I am sorry to announce that I have decided to resign from my post of work due to my own business interference. As my schedule in this company does not allow me to work for my own business as well. Moreover, the schedules in both sectors are overlapped. Viewing this, I have decided to resign with a note of appreciation for all the good memories given by this company.
I started my cosmetics store online while working from home in 2019, having Covid leave from the work. During those holidays, I gave all my energy and time to establish this online store. Now the store has been approved for the physical establishment of its body along with online working. Now I have decided to open it in the Melbur Market of Boston. Having a store shop does not allow me to work here from 9 AM to 5 PM as my time has been much squeezed by the job and business. It does not leave any slot for my grooming and thus also affects my family engagements.
This synchronal run also affects my health and does not leave any time for rest. Keeping on this, I herewith resign from my position. I would love to provide assistance in making this transition smooth and helping to find out the best candidate for this position. If you have any questions, please write to me at [X] or call me at [#]. Thank you for your cooperation.
Regards
Jenny Cooper
Assistant Designer
UPST Textiles and Designs
0090-Seven Adams Industrial State Area
Boston, CA
USA
(Signature)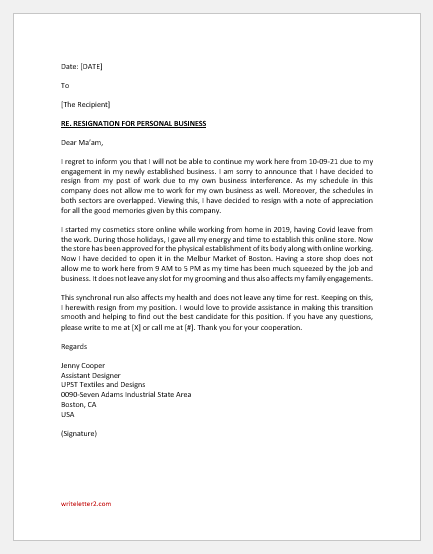 Size: 21 KB Word .doc File 2003 & later
Download