Angry Letter for Outstanding Payment
What is an outstanding payment?
An outstanding payment is the sum of money from a client that is yet to be paid. As a business owner, late payments from clients can be frustrating. However, if the payment is not made on the exact promised date, it shouldn't be made a big issue. It is possible that the client forgot to make the payment, didn't have enough funds on that exact day or maybe there was a technical transaction issue at the bank's end. Whichever the case might be, wait for at least a day or two before sending them a reminder.
Sometimes clients deliberately delay payments and do not take matters seriously even after multiple reminders. If a simple phone call or email doesn't work, a strongly worded letter can be written to the authorities so that they can take matters into their own hands. You should mention all the details in the letter and attach proof of any previous reminders that you have sent.
Keep in mind the following points while writing an angry letter for outstanding payment
Stay concise and mention specific details of the project and the sum of money that needs to be made. You can include any dates or names of the people you coordinated with earlier.
Mention your name and details in the letter. Also, you can attach proof of any previous coordination with the client.
You can write a strong worded letter but don't write rude or sarcastic remarks in it. Avoid writing threatening comments too. Even if the client does not take the work or payment schedule seriously, you should always stay professional and polite. Being offensive and rude can make things worse. You can warn them in a professional way that you will discontinue to provide them your services if the payment is not made within a given time frame. In addition, you can also include a late payment fine to discourage them from making late payments in the future.
Double check your letter for any grammatical errors and use proper syntax and correct tone of words. Moreover, if the account details have been communicated before, you can mention them again in the letter. Write your contact information and mention the date till when you expect to receive a reply.
You may also mention to the postal service that you expect a delivery receipt. In this way, you will know that the letter was received by the company and wasn't lost in mail.
Following is a sample letter for outstanding payment.
Sample Letter
To,
Mr. Phil White
Summerhill and Co. 
From,
Alex Summer
Accounts manager
ABC cleaners.
Dear Mr. White,
I am writing to inform you that the payment for our last project is overdue by a month. The last payment was made by you on 2nd July 20XX. The next payment of $1500 was due on 2nd August 20XX however, after three reminders, the payment is still outstanding. I would request you to please clear the dues at your earliest.
We have provided our cleaning service to you for about six months now and have never delayed work at our end. We expect the same level of professionalism from our clients by having our dues cleared on time as it helps us to maintain the standard of our services.
I regret to inform you that if the payment is not made by 10th September, we will cease to provide our services to your company. Also, as per our company policy, a fine of 1.5% on the total sum has been imposed on your payment. We hope that in the future your company will make payments on time so that we can continue our affiliation.
You can contact me at my office number [X] in case you have any queries.
Thank you and looking forward to your response.
Regards,
Alex Summer
Signatures.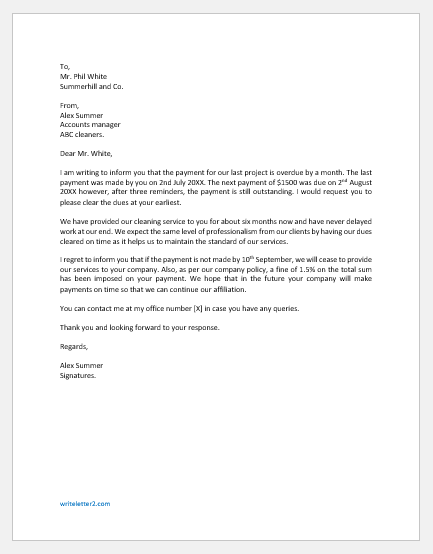 Size: 23 KB Word .doc File 2003 & later
Download