Complaint Letter for Damaged Goods
The goods are those objects which can be touched. They are manufactured, marketed and sold. The selling of goods is based on a variety of factors. Their condition, price, branding, and labeling are much important. Consumers consider all these factors before purchase. So, the manufacturers are much responsible for providing the best quality as per the demand of consumers. Otherwise, people just opt for alternatives and substitutes. Another important factor is the packaging and seal. The goods which are being sent by any mode must be quality sealed and packaged to avoid any damage. If damage occurs, the manufacturers suffer much loss. As they have to replace the damaged ones. As well as, the damaged goods cost cannot be covered. As a result, it is a much complex process. And proper focus, time and teamwork are needed to avoid any kind of damages or losses. When any retailer or consumer receives damaged goods, they can lawfully complain about replacement or reimbursement.
Complaint Letter for Damaged Goods
Superior Products Retail Store
Williams Jonathan
18 St. Fifth Nicholas Avenue, New Hampshire.
June 10th, 2017
Mr. Richard Mc. Jordan
National Fresh Products Company.
23 Renton St. Horse Court Avenue, New Hampshire.
Dear [Recipients Name],
I hope you are doing well. I am writing to complain about the damaged goods I have received. Five days ago, I had ordered twenty cartons of canned fruits and vegetables for my retail store. The order was worth $950. I received it after five days as per the deal. When my workers opened them after receiving, they found all of them damaged very poorly. The tins of canned fruits were leaked and labeling was wiped off. The bottles of canned vegetables were all broken and leaked. All cartons were much messy and full of insects. It was totally unexpected from such an old and familiar company. I am much dissatisfied. I have enclosed the receipts along with the details of the order. I need a full replacement of the order. Otherwise, reimburse the full amount within two working days.
I am waiting for a prompt response.
Sincerely,
Williams Jonathan.
Superior Products Retail Store.
Download Details: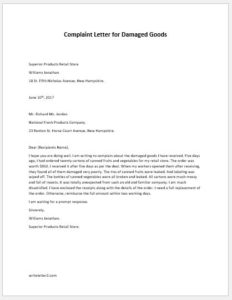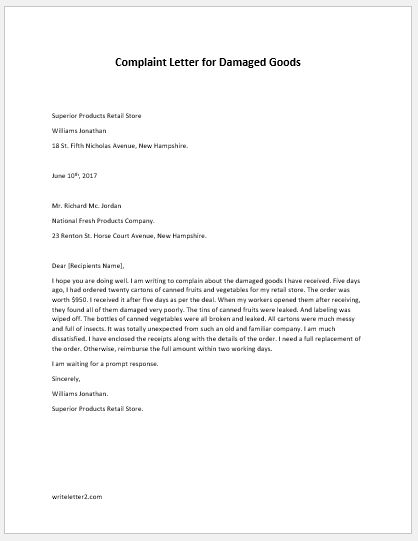 Complaint Letter for Damaged Goods
Size: 22 KB Word .doc File 2003 & later
Download
Mobile Version: Polaris Office & Google Docs
Size: 26 KB File
Download
[personal use only: Not for Resale & Distribution]