Letter Announcing a New Employee's Appointment
What if you see a strange new face next to your cabin in office? I'm sure it would be surprising. O man! That's the new employee. Your colleague!
If this happens to you, it's because your authorities do not follow the strategy of informing working employees about the appointment of a new employee or may be, you had ignored the memo which was regarding this new employee.
In professional business setups, authorities inform their working employees about the appointment of a new employee. There could be many objectives in the background. Businesses would want the new employee to be recognized and welcomed and at the same time would like the working employees to be mentally ready to have a new work partner with them.
A letter announcing a new employee's appointment can have his name, title and the date of joining. The employees can be informed if there's an arrangement to welcome the new employee.
LETTER
[Subject of letter] –optional-
Dear employees,
This is to inform you that in place of our ex-sales manager Mr. [enter name], a new employee Mr. [enter name] has been appointed. He will join the office on [enter date]. You all are requested to join the conference room well in time on [enter day] so that we may give him a warm welcome. There will also be a high tea arrangement in the late afternoon. Thank you!
Sincerely,
[Your Name]
[Senders Title] -Optional-
Download Details: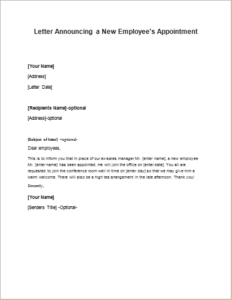 Letter Announcing a New Employee's Appointment
Size: 25 KB Word .doc File 2003 & later
Download
Size: 229 KB PDF File
Download
[personal use only: Not for Resale & Distribution]