Complaint Letter to Travel Agency for Bad Services
Travel agencies provide travel and tourism related services like transportation and accommodation. Such services can be through airlines, rental cars, packaged tours, and railways etc. They serve as a medium between the people and suppliers. The work of travel agency is all related to management. They need to be much efficient in management. Teamwork provides effective results. The travel agents perform all the tasks related to these services. People have built strong trust on travel agencies as they provide ease related to travel and tourism. But, this trust can ruin if they will deceive the people. And people can also lose trust when the said services are not delivered. The agencies should keep a proper system as to avoid such inconveniences and also to keep customer's satisfaction. When the people suffer any inconvenience they make serious complaints against these travel agencies. And people also demand compensation or refund.
Complaint Letter to Travel Agency for Bad Services
Academic High School
Eric Christopher
10 St. Bridge Avenue, Nevada.
16th May 2017
Mr. Ken Jacob
XXX Travel Agency.
15 St. Bird Avenue, Nevada.
Dear [Recipients Name],
I am Charlie Christopher, Vice Principal of Academic High School. I am writing to complain about my worst experience with your travel agency. I booked a trip for grade tenth to Point Dume, California from Nevada. It was from 12th May to 15th May 2017. When we reached the hotel, they told us that only three rooms were booked by our name. And our booking was for seven rooms as per the deal. The daily breakfast charges were also inclusive. Again the hotel management said that it was exclusive and only the rooms were booked. We faced a lot of difficulties. It was the worst trip we ever had. Two days went in vain to cope with all these issues. The transport which you provided went back after leaving us at the hotel but the deal said that transport will stay with us for the whole trip. I am very much disappointed. I want the refund of the services you have not provided. You just made this trip a terrible experience.
I look forward to a timely response.
Sincerely,
Charlie Christopher
Vice Principal, Academic High School.
Download Details: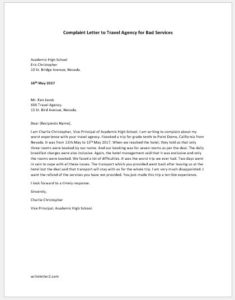 Complaint Letter to Travel Agency for Bad Services
Size: 33 KB Word .doc File 2003 & later
Download
Mobile Version: Polaris Office & Google Docs
Size: 21 KB File
Download
[personal use only: Not for Resale & Distribution]