Defective Product Complaint Letter
A product is considered defective when some imperfection arises in it. After buying a product many times it happens that customers find it defective. A defect in products can be of any kind like design defect or manufacturing defect. Sometimes, a defect of any kind can be found dangerous. It is the duty of the manufacturers to keep proper check and balance so that chances of defects can be minimized. In addition to all this, products after being manufactured must be given trials to assure that it is safe to use.
There is a facility in all kind of stores to replace or claim the defect. Some appliances etc. also have the warranty which can be claimed within the given time period. The people who are buying the product for the first time and those people having lesser knowledge about the product are much prone to have the dangerous effects of the defective product. Once the defect is found, a complaint letter is written to the company specifying the type of defect. The company proceeds with the complaint accordingly.
Defective Product Complaint Letter
Nicholas Mc. Jackson
Front Line Residence
15 St. Golden Wall Avenue, New York.
20th May 2017
Mr. Peter Clinton
Chase Electronics Company Outlet
47 St. Ninth Bridge Avenue, New York.
Dear [Recipients Name],
I purchased a coffee maker and electric kettle from your store on Thursday 11th May 2017. I paid $300 for both. In just one week I found out defects in both. The kettle is not boiling the water like it was on the first day. And the coffee maker's beater is not functioning since the time I opened. I am much disappointed. It was my first purchase from your company outlet. You should be concerned about your products as such things may lose the customer's trust in the company. I am sending you the receipts along with the letter; the purchase receipts as well as the warranty and guarantee receipts. I would appreciate if you will resolve my problem as soon as possible. You can contact me on (310)-763-4589.
I am waiting for a prompt response.
Sincerely,
Nicholas Mc. Jackson
Download Details: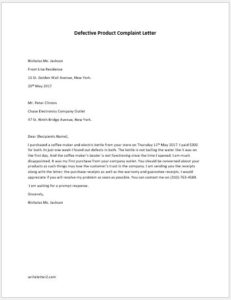 Defective Product Complaint Letter

Size: 31 KB Word .doc File 2003 & later
Download
Mobile Version: Polaris Office & Google Docs
Size: 23 KB File
Download
[personal use only: Not for Resale & Distribution]