Apology Letter for Missing a Class
1-
10 February 20XX,
Rowdy Berlin
Brooklyn, 1111

Dear Mr. Berlin, I am Ronal Mathew, a student in 12th grade in your college. The purpose of writing this letter is to seek an apology from you about Ma'am Katherine's class that has been missed by me on 20th of this month and on the base of it she did not allow me to sit in her exam which was yesterday.
There were running certain issues between my parents and that day I received an emergency call from my mother, she had a serious fight with my father, and while calling she was weeping bitterly. So, I ran in a hurry towards my home without informing anyone to handle the ongoing scenario. My mother is a heart patient and she cannot bear any kind of stress and trauma, so this was the main reason for missing the class. When I came to college the next day, ma'am threatened me to not allow me to sit in her exam and this was the final exam of last semester.
I apologize to you for behaving like this and promise you that in the future if something like this happens, I will inform you timely. I hope that you will understand me, and I am sorry for this act of disobedience.
Regards,
Aden Rock
Size: 19 KB Word .doc File 2003 & later
Download
---
2–
10 February 20XX,
Mark Twain
New York, 000
Dear Mr. Twain,
I hope you will be fine. I am writing this letter as an apology to you for the class that I missed on Wednesday. I am a punctual and hardworking student and consider it my first and foremost duty to respect teachers but due to a very important issue I had to miss the class and I could not inform you timely.
I had an appointment with the doctor and had to go there for my monthly checkup. As you know that my backbone was fractured four months ago and on Wednesday, I had to meet Dr. Mezzo for a follow-up. I had to inform you about all this, but I could not tell you timely. I had forgotten about the checkup then suddenly in the break time, it came to my mind that today I have an appointment. I had informed Jones about my going but he did not tell the concerned teacher about this. When I came to school the next morning then I was informed that my name has been struck off for seven days from the school.
I hope you will understand my situation and will give me a chance to come to the school again. I assure you that nothing of this kind will occur and I will inform you timely if ever I have an emergency, but for this time I am sorry. I would be very thankful to you if you forgive me this time. If you need any other further information, I will provide you all.
Regards,
Steve Marlin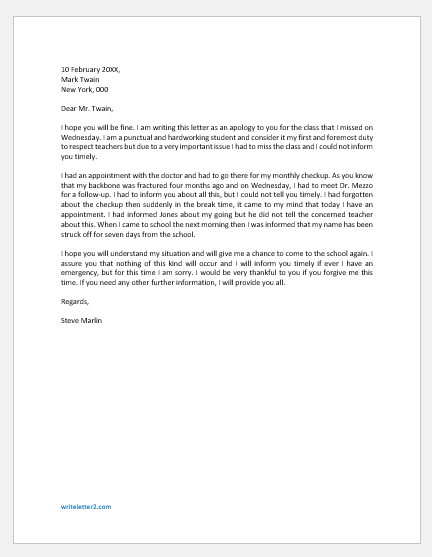 Size: 21 KB Word .doc File 2003 & later
Download