Letter Announcing an Employee's Sports Event Achievement
The best and most important thing to boost the performance of an employee in any organization is to appreciate the employee. The feelings of trust are developed between the staff and the management. The letter gives the feeling to each individual that the management is really interested in their lives and in their achievements. State the name of the employee in the letter and if you want more, then you can add the biography also. To make your letter read by all the target people, the letter should be written in such a way that it can grasp the attention of the reader.
The best way to make the reader attentive is to add the subject to the letter. Also, state the achievement made by the employee in this way you will tell everyone that why you are awarding the employee. If you have some other information to add to the letter, you can do it.
At the end of the letter, congratulate the employee for his achievement and try to encourage other employees of the company to work in the same way so that they can also achieve something in life. The letter should not be too long. The tone of the letter should be formal and it should be written briefly. In the end, check the letter for any grammatical errors so that you can deliver an error-free letter to the readers. End the letter with the positive tone.
Letter
Dear [Recipient's Name],
Our junior marketing manager [INSERT NAME HERE] has won Tennis Championship which was held by our company last week [or ENTER DETAILS]. Everyone was impressed by the passion and the energy of [INSERT NAME HERE] Because of his excellent performance in the Tennis game; she has been awarded the [AWARD DETAILS HERE].
We congratulate him on his win and we encourage our other employees also to take part in such games and to win such high-class trophies.
[Your Name]
Download Details: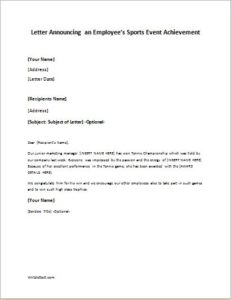 Letter Announcing an Employee's Sports Event Achievement

Size: 23 KB Word .doc File 2003 & later
Download
Size: 123 KB PDF File
Download
[personal use only: Not for Resale & Distribution]