Complaint Letter for New Product Doesn't Work
The companies and businesses need to understand the buying behavior of the consumers. Buying behavior can be emotional or rational depending on the prevailing situations. This is the main factor which attributes to their positive growth and progress. This in return leads to success. Another important factor is the quality of the product. It is the main ingredient of a product ever since. Managing quality is a crucial task. But if the quality is maintained properly, it gives customer satisfaction and loyalty. The company needs to focus on the quality standards then they can easily generate long-term profit. Faulty products lead to dissatisfaction of customers. Eventually, they choose alternatives. This issue must be foreseen to avoid any loss regarding expensive products. Poor quality indirectly increases the cost of the product. So, it is better to maintain quality effectively and efficiently. When customers buy defective or non-operational products, they can promptly complain and ask for replacement and problems faced due to this issue. In return, the company should respond promptly and excuse for an inconvenience.
Complaint Letter for New Product Doesn't Work
Hostile Residency
Jimmy Corbin.
Block 30B, Bridge Avenue, San Francisco.
June 26th, 2017
Mr. Axel Theodore.
Chase Electronics Store.
34 St. Great Wall Avenue, San Francisco.
Dear [Recipients Name],
I am Jimmy Corbin. I am writing to complain about the purchase I made on 25th June 2017. I bought a foot massager and air fryer from your store but unfortunately, both did not work. I am much surprised as they are very normal products and they are simply out of order. The foot massager's fan is not working. The air fryer is completely out of order when I turned it on. My residence is one hour far from your store. And due to my busy schedule, I hardly get time for such things. I have enclosed the receipt of my purchase and a copy of warranty card of both products. I want a replacement within this week, as I need these two products. It would be much better if you send a replacement at my home. I can be reached at 3103567891.
I am waiting for quick actions.
Regards,
Jimmy Corbin
Download Details: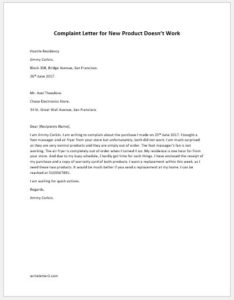 Complaint Letter for New Product Doesn't Work

Size: 32 KB Word .doc File 2003 & later
Download
Mobile Version: Polaris Office & Google Docs
Size: 36 KB File
Download
[personal use only: Not for Resale & Distribution]