Apology Letter for Car Accident
Apologizing for an accident can be good for the victim and the culprit. Such an apology should be very serious and sincere. You should make the victim feel that you care about them and you want to fix the situation. The apology letter should maintain a polite but serious tone. You should be very generous in your apology as a small accident could have serious consequences as well.
State any reasons of the accident and assure the victim that this does not happen frequently. Make the victim feel confident that it will never happen again. Clearly, apologize and take full responsibility for your actions.
Make sure to write down that what have you learned from the situation and that your actions could have a serious impact on the lives of the victim and other people on the road. Also, state what actions will you take to change your behavior and how will you avoid such situations in future.
Don't forget to mention that you are ready to face any consequences such as paying any damages for the accident.
LETTER
Dear [Recipient's name]
I am writing to you for apologizing about the accident we had two days ago. I am a very safe driver and I always take care of my fellow drivers. The brakes of my car were not working well due to which I was not able to control my car. I have been very negligent as it was not in my notice that my car needs repair.
I am very apologetic for my negligence. I know my negligence would have cost me your life. I tried my best to take my car in control but even then, I ended up in hitting your car. Your life means a lot and I hope you were left safe but your car got some damages.
I would highly appreciate if you allow me to deal with this situation rather taking it to the court. I am very embarrassed over what happened. I am ready to pay for any medical bills you had to pay due to this accident. You can also inform me about the car damages and I will be more than happy to get it fixed personally and if that does not suit you, I can pay you the damages.
I hope you will accept my apology and get back to me soon so that we can decide a way forward.
Sincerely,
[Your Name]
Download Details: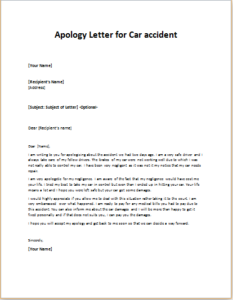 Apology Letter for Car Accident
Size: 30 KB Word .doc File 2003 & later
Download
Size: 195 KB PDF File
Download
[personal use only: Not for Resale & Distribution]