Announcement Letter for Closing Business
#1
Re. Announcing the Permanent Closure of the Business with Immediate Effect on Account of Current Deficit
Dear Customer/Client, this letter is to inform you all that we are closing our business because of the current deficit countered by the company. This unexpected decision was taken because of the excess of liabilities over assets of the company. Moreover, the company is unable to carry out all the taxes and liabilities. Therefore, it has been decided by the board of governors that the company shall not be able to continue its business.
Our customers and clients are our assets. They are valued more than our production and profits. Therefore, it is important to communicate the decision to you. We are open for the next twenty days to settle the outstanding invoices. You are requested to pick your items up from the stores, if any, before 31-08-21.
To settle the liabilities of the company, we have struggled much and tried every other possible way. Hence, closure is the only solution to the deficit. IRS has also been informed about the closure and its reasons. Thus, we extend our gratitude to our customers and clients who made our business one of the best and well-renowned businesses. Do not hesitate to reach us through our official website or contact number. Our website is [website] and UAN is +[X]. Thanks for your support and love.
Regards
Jennifer Auston
Assistant Manager
Rexters Store
342-D Nickelson Street, San Diego
CA, USA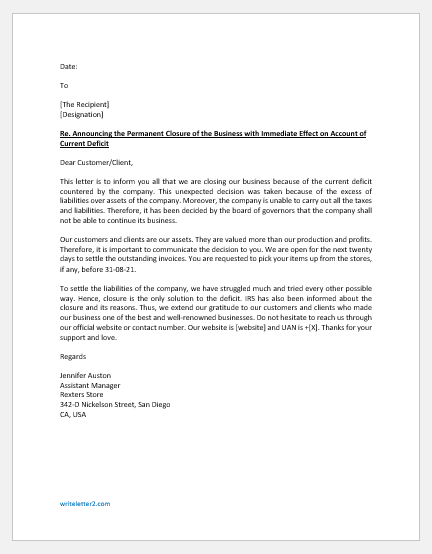 Size: 22 KB Word .doc File 2003 & later
Download
---
#2
Re. Announcement of Permanent Shut Down of the Business
Dear Ross,
I am writing this letter to announce the permanent shut down of our business. We have decided to leave the business of clothing store on account of COVID-19. Covid has been one of the most impactful factors on the business. The freshly started businesses have been immensely affected by the lockdown and coronavirus spread.
Our business deals in premium clothing and refined fabric. Our business is known as one of the best clothing stores and exports more than 48% of its products. Our clads are famous all over not only in America but also in Canada and Mexico. We use high-quality fiber for our fabric. We always had had specialized and competent staff ardent in textile and efficient in the mechanics of business and professionalism.
Covid-19 and a series of lockdown implications have struck the business badly and broke its spine. It has become difficult to continue the business as we are under huge debt and deficit. Our assets are much lower than the liabilities asserted on the business by the Local Business Analysis of Sacramento.
We thank you for your support and love. Our cosmetics wing shall remain open. No impact of this closure shall be asserted on the cosmetics wing of the business. We are open for one week to return all the outstanding invoices or items for alterations. You are requested to pick your items before 10-08-21. Contact us at +[X] or visit our website [website] for further.
Regards
Jeniffer Geller
Assistant Manager
D-Clads
D-0901 Cashwis Road, Orlando
CA, USA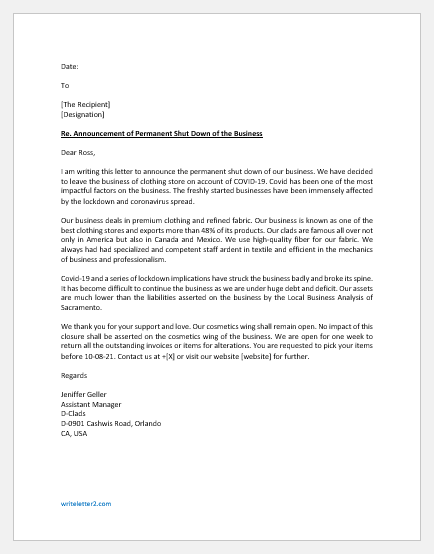 Size: 22 KB Word .doc File 2003 & later
Download