Acceptance Letter for Admission
It is always a matter of great pleasure when you receive an acceptance letter from some educational institute that you have been dreaming of studying for so long. After receiving the letter, the next step is to write a good acceptance letter in its response.
It must be well written in formal terms showing a little bit of your excitement and gratitude about getting the acceptance letter from your desired institution. A little talk about the passion you have for the selected subjects makes it even more attractive. Following is an acceptance letter for admission written by keeping all the above points in consideration.
1-
I [title] [name] am writing to you on behalf of [Medical school name] to inform you that your daughter has been accepted for our MBBS program. Congratulations on this huge milestone as [X] college is one of the top medical colleges in this region.
[Name of hospital], the training hospital we are attached to is one of the biggest hospitals of the region and serves more than [number] patients per day. Our surgery department is the envy of our competitors and our students get to learn from the best.
Your daughter's score on the entry test and her previous educational record show that she is a hardworking and dedicated student and we feel that she would be a good addition to our prestigious institution. To complete the admission procedure please fill out the attached forms and submit the documents mentioned in the list attached to this letter before [date]. The date for the orientation ceremony would be intimated later.
In case of any queries please contact Mr. [name] in the admission office through phone [phone number] or email at [email address]. In the end, I would like to congratulate you once again and thank you for selecting our college.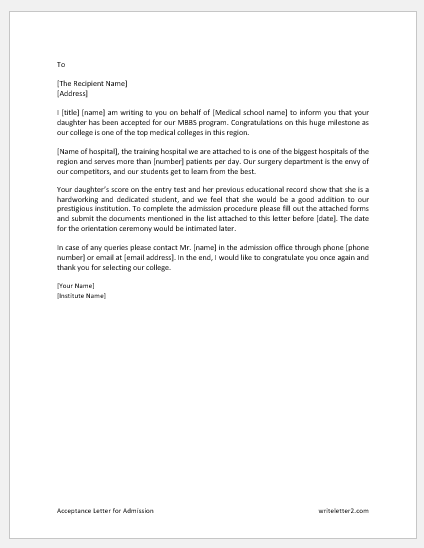 Size: 13 KB Word [.doc] File
2-
Dear Sir [name],
Congratulations! We are very glad to inform you that you have been accepted into the business program of [university name] for the [year-year] session. Your previous academic record and your extracurricular achievements have earned you this place.
We have attached a list of documents you need to submit before the semester starts. Also attached are some forms which need to be filled and submitted latest by [date]. We are also sending a starter pack that has all the important information to get you started. It has all the details from the campus guide to on-campus job opportunities and scholarships being offered. In case of any quarries, please contact Mr. [name] through phone [phone number] or email at [email address].
In the end, we would like to congratulate you once again on achieving this important milestone.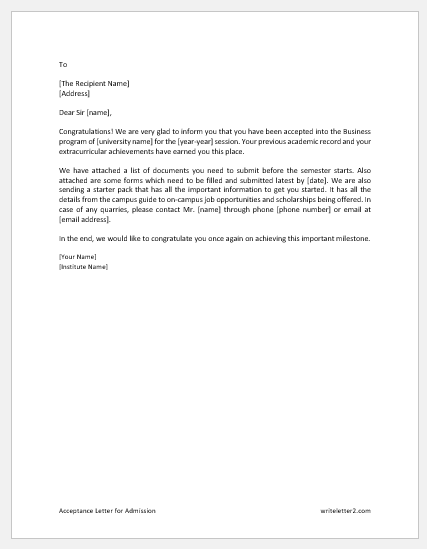 Size: 13 KB Word [.doc] File
3-
Dear [recipient's name],
I am writing this letter in order to confirm my acceptance for the admissions fall 20XX at [NAME University USA]. It will be a great pleasure to be a part of such a prestigious institute.
Thank you very much. I feel confident that I can make a significant contribution to the institution with my hard work and determination, and I am grateful for the opportunity you have given me and I assure you that you will never regret it.
In addition, to my good academic records, I am always active in extracurricular activities, I played as a captain of my school's basketball team for 4 straight years. I am really looking forward to the next four years of my life at [NAME University]. I once again appreciate your trust in me and I am very happy to join this institution.
Thank you very much.