Letter to Supplier Requesting Invoice
A letter for requesting an invoice is written to the supplier company in which the buyer asks for the invoice of their recent purchase. He may clarify the order details along with the company's expectations to send the invoice timely. A simple invoice must contain the identification number, company's name and address, the services provided, and the list of items purchased.
Requesting for an invoice can be a highly fruitful step towards maintaining the record of previous and future sales. You simply need to check the relevant date of order and the amount of money paid for the items. This way, both the business vendors and the clients would be satisfied and updated with their purchases.
Letter 1:
Dear Sir,
I am writing this letter with reference to our recent purchase of order number X-45 on 11th March, 20XX. Our management team has not yet received the invoice for this order and we request you to send it on an urgent basis.
Our company had purchased several items for our new project and to close our accounts procedures, we need the invoice to clarify our dues with your company. Although we expected to receive the invoice along with the items on the delivery date, there must be an unintentional delay at your end.
Therefore, we request you to send us the invoice with all the purchased items, their calculated bill, and the services we received from you. This way, we can verify our accounts procedure and speed up the payment transfer to your company. Do not forget to counter check the list of items you sent along with the billing amount.
We will be waiting for the invoice. Thank you in advance.
Yours Sincerely,
[XYZ]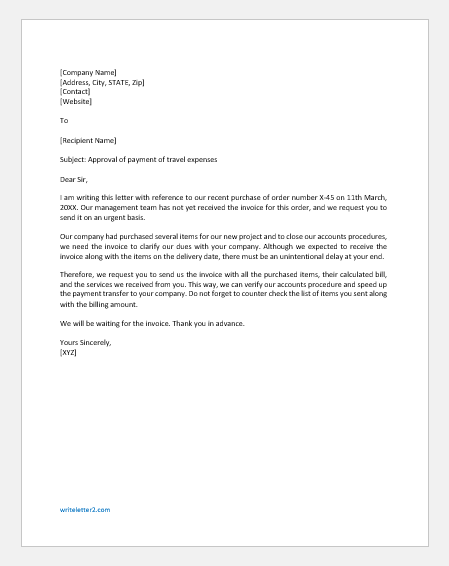 Size: 22 KB Word .doc File 2003 & later
Download
---
Letter 2:
Dear Sir,
It is requested that our company needs the invoice for our purchase on 21st June, 20XX, with reference to the order number: 7DF47.
We were expecting a detailed invoice for our products and services with the attached receipt of the calculated bill. But your company sent the invoice neither from the email nor with the delivered products. We understand that this mistake is entirely genuine, and your billing staff may have forgotten to send the invoice, but in either case, we need the receipt and invoice for further payment procedures. Our management staff needs to close the accounts procedures for this order, so a new one can be made with your company.
Hence, we request you to send us the detailed invoice of the delivered products and wait for us to send you the payment via transaction. Thank you for your understanding and cooperation. We wish to see happy business days ahead.
Yours Sincerely,
[XYZ]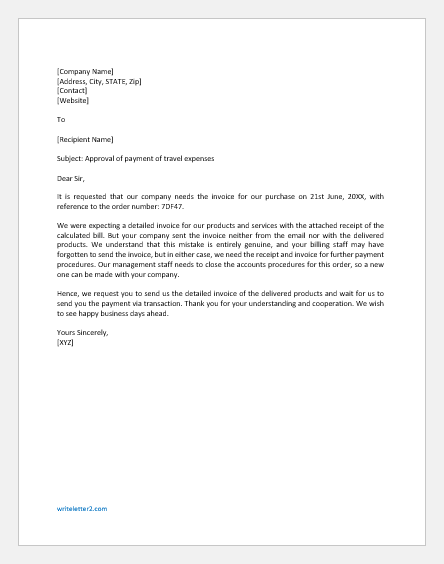 Size: 19 KB Word .doc File 2003 & later
Download