Supplier Change Announcement Letter Samples
#1
Re. Supplier Change Announcement
Dear [TO WHOM IT CONCERNS], I am writing this letter to announce the change of the supplier. Previously, our company had been working with [NAME] as a supplier who is, currently, in no position to work with our company. [NAME] cannot perform all the tasks because of internal conflicts. Working with the [NAME] had been a great pleasure as it was a time of good coordination and constant cooperation. Our marketing agency saw a boost during our working with [NAME]. We are sorry to announce that this coordination concludes on [DATE] and [NAME] is not more serving as our supplier.
As [NAME] cannot provide services anymore, we can't carry on our supply solely by the company's manpower. Therefore, we have decided to appoint [NAME] as our new supplier. They will provide delivery service on behalf of our company. As [NAME] is an esteemed body of suppliers, we expect a good deal of collaboration. They have a high name in the field of marketing and supply. They have a professional and competent team that is determined to take the field of marketing to another level.
Please let us know if you need more information about the supplier replacement. Any other needful information would be provided on our official website [WEBSITE] and updated over time. Call us at [PHONE] or write to us at [EMAIL]. Thank you.
Regards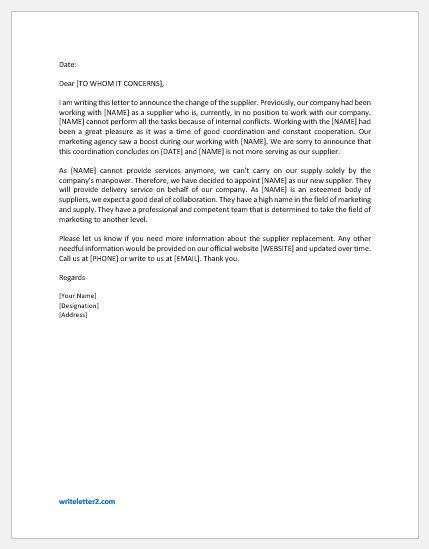 Size: 17 KB Word .doc File 2003 & later
#2
Re. Change of Supplier Notification/Announcement
Dear [NAME],
I am writing this letter on behalf of [COMPANY] who have, recently, made some changes in the company's internal body of working and outsourcing. One of the changes done by the company is the change of supplier. We are obliged to announce any change in the company to you in an official way. Hence, the company's upper body of working has been undergoing some changes, that have impacted the change in the company's important matter.
One of the major changes is the change of supplier. The earlier supplier is suspected of using inappropriate tools, dishonest measures for payment boost, and other maladministration steps. Therefore, we have drafted this letter to remove our previous supplier from the list of working bodies of the company. However, a lot of destabilizations would be brought due to this, but this has been mandated by the higher authorities.
The decision would be effective from [DATE] and from [DATE], [NAME] would take charge as our new supplier. They have a professional team that has extensive production capability along with well-versed experience in the field of marketing and product selling. They have already been referred to the Quality Assurance of the company who will coordinate further. We hope this decision would be in the utter benefit of our company's business and other working bodies including all our employees.
Feel free to ask any questions by writing to us at [EMAIL] or you can visit our website to get further updates in the future. I am signing off by thanking you for your constant support.
Regards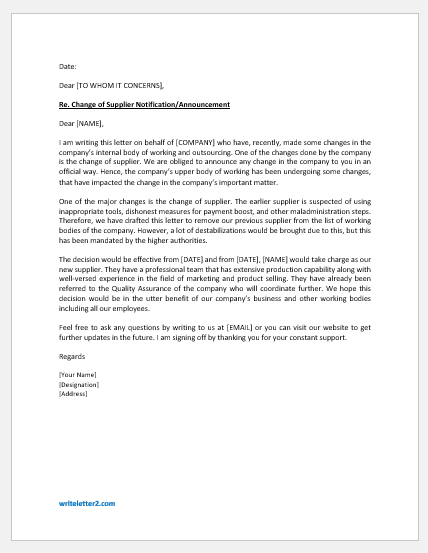 Size: 17 KB Word .doc File 2003 & later